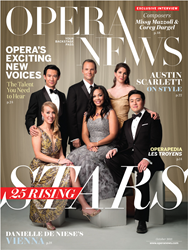 New York, NY (PRWEB) September 11, 2015
The October issue of OPERA NEWS, which has the largest circulation of any classical music magazine in the United States, hits newsstands on September 18th featuring profiles of 25 brilliant young singers. Dispelling any doubts about opera's status as a global art form, these Rising Stars hail from all over the world, with hometowns ranging from Appleton, Wisconsin to Ningbo, China.
Editor in chief F. Paul Driscoll and features editor Brian Kellow created the ultimate list of opera's next generation of headliners. OPERA NEWS has long been celebrated for its impressive ability to identify important new artists in the magazine's monthly "Sound Bites" feature. The work of the October 2015 issue's Rising Stars in prestigious competitions, conservatories and young-artist programs has already won them attention. The next step: knocking the doors off theaters around the world with their talent.
"Acceptance into a young-artist program or a competition victory is not a guarantee of an important career," said F. Paul Driscoll. "We believe that these 25 Rising Stars have the potential for international success. We hope that they will flourish in seasons to come and look forward to watching their progress."
The 25 Rising Stars

Michael Adams: The Texas native's ripe, evenly produced lyric baritone has already earned him top prizes in competitions.
Michele Angelini: Dazzling flexibility and rapid-fire coloratura range is a given for this virtuoso tenor.
Andrew Bidlack: The Pittsburgh-born tenor's schedule these days is evenly divided between bel canto roles and new works.
J'nai Bridges: The mezzo-soprano credits her discipline from her high school hoops days growing up near Tacoma, Washington.
Janai Brugger: Hailing from Chicago, this soprano has a rapturously beautiful, blooming sound that has already won her raves.
Julia Bullock: The St. Louis native is a recitalist of rare talent and integrity. With nothing routine or expected about her, the soprano is very much her own law.
Ray Chenez: This countertenor's voice is bold and assertive, but also warm-toned and luxurious.
Lise Davidsen: Fresh off her 2015 Operalia win, the soprano, who hails from Stokke, Norway, makes several important debuts this season.
Elizabeth DeShong: This mezzo-soprano has quickly developed a reputation as one of the most intelligent stage performers of her generation.
Ying Fang: The Ningbo, China native sings in two important Met revivals this season.
Emily Fons: Easily one of the best singing actors of her generation, this Wisconsin bred mezzo-soprano knows that there is no better practice than experience.
Sol Jin: This bass-baritone hails from Seoul, South Korea. Previous credits include a standout performance at last season's Zankel concert for Licia Albanese-Puccini Foundation Completion winners.
Cecilia Violetta López: The soprano, a native of Rupert, Idaho by way of Mexico, came to opera fans' attention in 2014, when she sang Violetta in the Marina Arroyo Foundation production of La Traviata.
Ryan McKinny: One of the most promising dramatic bass-baritones today plays it smart with his voice and prides himself on building relationships with conductors and directors whose work he most values.
Jarrett Ott: This Pennsylvania native, who sang at the Santa Fe Opera this past summer, stands out in the current crop of gifted lyric baritones.
Hyesang Park: A born performer, this South Korean lyric coloratura soprano established herself as an artist to watch with her New York debut at Juilliard in November 2014.
David Pershall: With a baritone voice that can only be described as well-knit, warm and expressive this Temple, Texas native is perfectly suited for a wide range or repertory.
David Portillo: The tenor will make his Metropolitan Opera debut this season as Almaviva in The Barber of Seville, a role that is fast becoming one of his specialties.
Brenda Rae: This soprano once dreamed of being a rock star like Tori Amos. These days you can find her on stages in Paris and Munich, singing Zerbinetta.
Nadine Sierra: As a soprano who grew up an avid swimmer in South Florida, Sierra is now putting her excellent breath control to good use as a musician.
Reginald Smith, Jr.: In possession of one of the most exciting baritone sounds to come along in years, this Atlanta native is poised for success.
Michael Spyres: One of the busiest lyric tenors around, Missouri native Spyres launched his career at Springfield Regional Opera, where he was just announced as the company's new artistic director.
Andrew Stenson: The tenor, who will sing Gen in the world premiere of Bel Canto at Lyric Opera of Chicago in December, was born in Korea, but was raised in Minnesota.
Virginie Verrez: Most will recognize this French mezzo-soprano from her 2015 win in the Met National Council auditions.
Yunpeng Wang: First hooked on opera when he heard The Three Tenors, the baritone from Shenzen, China is now moving audiences to tears.
The Rising Stars issue is the magazine's second since its redesign debut in September. OPERA NEWS now reflects a wider range of the publication's audiences' interests and included a sleek new logo and layout, a revamp of editorial mainstays, as well as new editorial features including:
"Behind the Scenes" with Bronx Opera's production manager Scott Schneider. An inside look to see how he manages to produce quality on a shoestring budget.
"Noteworthy & Now," a glimpse into exciting new productions at the Canadian Opera Company, upcoming concerts at the New York Philharmonic, as well this month's national and international highlights.
"Style," a proposal on how to dress a twenty-first century prima donna from designer Austin Scarlett.
The October issue of OPERA NEWS is available as a digital edition on September 11th and on newsstands September 18th. For a copy of the magazine, more information on the issue or to schedule an interview with F. Paul Driscoll, please contact Suzanne Byowitz at The Rosen Group, 646.695.7049 or suzanne(at)rosengrouppr.com.
About OPERA NEWS:
OPERA NEWS has been published by the Metropolitan Opera Guild since 1936; it has the largest circulation of any classical music magazine in the United States and is the only publication that covers opera internationally. Editor in Chief F. Paul Driscoll helms the monthly, which is a winner of four ASCAP-Deems Taylor Awards for excellence in music journalism. For more information and the latest opera news visit operanews.com, facebook.com/operanews, twitter.com/operanews and instagram.com/opera_news/.
# # #