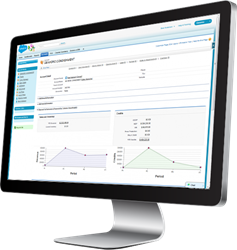 This really bridges the gap between Salesforce and ERP for the channel.
Seattle, WA (PRWEB) September 11, 2015
Entomo Inc., a leading provider of channel management software and services, today announced the availability of the Entomo Channel Revenue Management app on the the Salesforce AppExchange, empowering businesses to manage their channel operations and partners in a whole new way. Companies can now leverage the full capabilities of Entomo through Salesforce to collaborate with partners, and manage core channel activities to grow and maximize revenue.
"We're excited to provide access to the only integrated suite of channel management tools, with full Business Intelligence capabilities, directly through the Salesforce platform," said Suresh Kumar, VP of Engineering, Entomo. "We feel this really bridges the gap between Salesforce and ERP – neither of which is set up to handle the multi-layered complexity of channel partner data, incentive programs, sales compensation, revenue management and other channel activities."
The Entomo app for Salesforce integrates seamlessly with the industry-leading Entomo SmartHub® platform. The result is a uniquely transparent system that can be rapidly configured to to meet the needs of sales, marketing, finance, compliance and IT users.
Business benefits and capabilities include:

Drive revenue by reducing price erosion, channel incentive overpayments and ensuring compliance on partner volume contracts and other agreements.
Improve inventory management and sales decisions across all regions and channels through validated channel inventory and real-time sales data.
Link POS, inventory, incentives and other channel data directly to Salesforce accounts and opportunities
Gain real-time visibility to respond to changing market dynamics.
Enhance sales forecasting accuracy and reduce lost sales and stock-outs via comprehensive channel analytics.
Streamline sales compensation and opportunity tracking.
Automate sell-through revenue recognition and other channel-related financial activities. Eliminate spreadsheets and ad hoc databases and replace them with a single integrated system with built-in audit trails, automatically enforced controls, and seamless connections to ERP systems.
Entomo can be found here on AppExchange.
About Salesforce AppExchange
The AppExchange is the world's leading business app marketplace. AppExchange apps are customized for Salesforce and extend Salesforce to every department and every industry under the sun. It's a proven ecosystem of apps, with millions of installs and thousands of customer reviews to help you find the best match for your business. AppExchange apps eliminate risk and save time by helping you find the best tools that integrate with Salesforce and increase your team's productivity and company's growth.
About Entomo
Entomo is a leading provider of cloud-based channel management software and services. We help businesses manage distribution channel complexity to maximize revenue, reduce costs, improve partner performance and collaboration and ensure compliance at all levels. Entomo's SmartHub® is the industry's most flexible, scalable, and comprehensive enterprise channel management platform, enabling automation and streamlining of channel-related workflows, processes and financial activities. Entomo provides channel management solutions for global enterprises including Broadcom, Dolby Labs, Elo Touch Solutions, Keysight Technologies, Kingston Technology, Microsemi Corporation, OCZ Storage Solutions, Qorvo Inc., and Targus Corporation. Entomo is privately held and headquartered in Bellevue, Washington, with offices in Silicon Valley, Asia, and Europe.