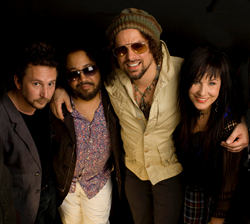 Fairfield, CT (PRWEB) September 10, 2015
The event of the season is finally here as the Fairfield Theatre Company (FTC) gets ready to open its doors to their highly anticipated new state-of-the-art performance space, The Warehouse, later this month.
Kicking off this highly talked about celebration will be the Pittsburgh-based band, Rusted Root at 8 p.m. on Thursday, Sept. 17. Formed by the Pittsburgh musician Michael Glabicki back in 1988, Rusted Root swiftly evolved into a highly-listenable source of eclectic percussion-based world music. Having honed the perfect combination of musical intuition, freedom and virtuosity, Rusted Root has allowed their sound to organically shift with the times, altering their music into their own distinct and undeniable vision.
With an astounding eight albums under their belts to date, more than three million records sold worldwide, and countless nights on the road, Rusted Root has continued to transcend age, generations, cultures, and musical styles; earning the band a multitude of hardcore admirers throughout the last two decades.
"From the very first time we played music together, I knew we had something special," bassist and vocalist Patrick Norman said. "The music and the enjoyment of creating and playing with one another, I feel, is the driving force behind this band."
Coming now to help break in FTC's newest venue, Rusted Root will continue to bring their powerful infectious musical movement to the people of Fairfield County as they come in to support their latest release, "The Movement."
"'The Movement' means a new work ethic," lead singer Glabicki explained. "It's going from the industrial age to the individual spiritual age. I feel everyone should devote all their actions to all that is love, healing and pragmatic. We're seeing the growing pains of this right now: the world is split; some people are fearful and fighting it with all their might. Rusted Root is trying to help with this… this is our movement!"
And it is working, with countless songs that have been featured in films like "Ice Age," "Twister" and "Matilda," and on hit TV shows like "New Girl," "Ally McBeal," and "Charmed and Chuck," old fans and new ones will be transported around the world in one evening, having an experience unlike any they have every witnessed before - unless they've seen Rusted Root shows before, of course.
But this is just a hint of what the future will hold, as The Warehouse starts its legacy in becoming a music venue for the ages. Speaking of a legacy, on Friday, Sept. 25, FTC will welcome The Weight to the Warehouse for a night that, you guessed it, is worth the wait.
For roughly half a decade, from 1968 through 1975, The Band was one of the most popular and influential rock groups in the world. With their signature music that was embraced by fans and critics as seriously as the music of The Beatles and the Rolling Stones, The Band was analyzed and reviewed as intensely as any record by their one-time employer and sometime mentor Bob Dylan.
Although The Band retired from touring after The Last Waltz — a legendary concert held at the Winterland Ballroom — their legacy thrived for decades and perpetuated the bandmates' respective solo careers, as well as the enduring strength of the band's catalog.
Now the next chapter of this legendary takes center stage as former band members come together to form The Weight.
Created by Jim Weider who replaced Robbie Robertson as their lead guitarist from 1985 to 2000, The Weight, a five-piece ensemble, will replicate the music of one of the greatest bands in music history. As The Band's songs have reverberated across history for decades and continue to speak to millions of fans, The Weight looks to keep this music in the hearts and souls of the people.
Featuring Weider and Randy Ciarlante who were once members of The Band, Brian Mitchell and Byron Isaacs of the Levon Helm Band, and Marty Grebb, who worked with Rick Danko and Richard Manuel, The Weight remains as the vessel for fans old and new who wish to keep the eternal flame alive of The Band's fabled experiences.
"What's nice about this band is that everybody has a reverence for The Band's material and each of us has a really strong connection to those guys," said the fiery guitarist Weider, also a charter member of the reformed Band in the '80s.
Sticking exclusively to The Band's material, The Weight continues night after night to shock even the biggest fans by their ability to dig deep into The Band's nostalgic catalogue of music and dust off and shine up songs that were rarely, if ever, performed by the original group.
"We start with Big Pink and go right through to Northern Lights – Southern Cross," Weider said. "There is such a treasure chest of fantastic tunes, songs like 'Look Out Cleveland' and 'Forbidden Fruit', tunes that we never really did, even when I was with The Band. I like bringing them out because I know that people remember them, and it's a pleasant surprise, and fun for us! At every show we try to do something different."
If that wasn't enough to rock your socks off, don't worry because FTC is just getting starting. On Wednesday, Sept. 30, they will host Britain's greatest roots reggae band, Steel Pulse, as they celebrate 40 years of performing.
Formed in 1975 in Birmingham, England, Steel Pulse was founded by schoolmates David "Dred's" Hinds (singer/guitarist), Basil Gabbidon (guitar), and Ronnie "Stepper" McQueen (bass). Inspired by legends like The Wailers, Burning Spear, and other prominent Jamaican artists, the three in the beginning found it difficult finding gigs, due to club owners being reluctant to give them a platform because of their "subversive" Rastafarian politics. However, thanks in part to the punk movement, Steel Pulse would find the connection they needed where their spiritual kinship and protest reggae kept the spirit alive and would develop into a theatrical stage show that leavened their social commentary with satirical humor and mocked traditional British archetypes.
Since then, Steel Pulse has become a well-recognized name and found themselves playing all around the world, sharing the stage with some of music's biggest names including The Clash, the Stranglers, Generation X, the Police, and XTC.
After winning the 1986 Grammy for Best Reggae Performance, Steel Pulse was on their way to stardom and never looked back. After receiving several more Grammy nominations in '88, '92, and '97, Steel Pulse became the first reggae band to perform at a presidential inauguration, and have continued to play sold out performances all over the world, thanks impart to their authentic roots reggae that also incorporates flavors of jazz and Latin flare.
The people have spoken and FTC listened. Come celebrate as FTC opens the doors of its new world-class venue, The Warehouse, this September and get ready to get down to some of the best rock music, infectious grooves, and spiritually uplifting jams to hit Fairfield County.
Rusted Root
Date: Thursday, Sept. 17
Tickets: $38 advance / Member Discount: NA
Doors: 7 p.m. / Show: 8 p.m.
Buy Online: http://www.fairfieldtheatre.org
Box Office: 203-259-1036
The Weight
Date: Friday, Sept. 25
Tickets: $35-$45 advance / Member Discount: $3
Doors: 7 p.m. / Show: 8 p.m.
Buy Online: http://www.fairfieldtheatre.org
Box Office: 203-259-1036
Steel Pulse
Date: Wednesday, Sept. 30
Tickets: $45 advance / Member Discount: NA
Doors: 7 p.m. / Show: 8 p.m.
Buy Online: http://www.fairfieldtheatre.org
Box Office: 203-259-1036
About Fairfield Theatre Company:
Fairfield Theatre Company is a highly-acclaimed nonprofit performing arts organization located in the heart of downtown Fairfield, Connecticut. FTC presents nearly 200 performances and concerts each year featuring outstanding national talent on FTC's StageOne in Fairfield, the Klein Auditorium in Bridgeport, and the Norwalk Concert Hall FTC's intimate 225-seat StageOne venue is widely recognized as being one of the best places to see a live performance in the region. FTC is dedicated to providing the highest quality arts, entertainment, and educational experiences to the communities we serve.