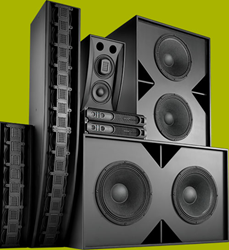 Cinemark's guests don't simply watch a movie, they live the experience.
Cypress, California (PRWEB) September 12, 2015
Christie®, a world leader in advanced cinema technologies and visual displays, announced that Cinemark Theatres, one of the world's largest motion picture exhibitors, has selected Christie Vive Audio™ to power its NextGen enhanced sound system auditoriums at the Cinemark Roanoke in Roanoke, Texas, which opened August 13.
The new 14-screen theater features Cinemark's NextGen cinema design concept, a highlight of which are Luxury Lounger recliners, a Cinemark XD auditorium and expanded dining options that will include beer, wine and frozen cocktails. It is the third Cinemark location to select Christie Vive for its leading-edge immersive line array speaker technology, with Cinemark StarCreek 16 and XD in Allen, Texas, and Century Huntington Beach and XD in Huntington Beach, California, already onboard. Cinemark will continue its roll-out of Christie Vive to its upcoming Cinemark Century Point Ruston 8 in Tacoma, Washington.
"Cinemark is committed to providing our customers with the latest advancements in cinema sight and sound, and our choice of Christie Vive to power our enhanced sound solutions in most of our auditoriums in Roanoke is further demonstration of our dedication to exceeding our customers' entertainment expectations," said Damian Wardle, Cinemark's Senior Vice President, Theatre Technology & Presentation. "Christie speaker technology also enhances the 3-layer multi-channel sound system in our XD auditoriums and over 60 speakers deliver an immersive audio experience. Having the ability to play movies in Auro or Atmos enables us to tailor our audio footprint design. Cinemark's guests don't simply watch a movie, they live the experience."
"Cinema sound is the next revolution in theaters, giving exhibitors the competitive advantage in a world where digital projection technology is already the standard," said Patrick Artiaga, director of business development, audio solutions, Christie. "Since its launch just two years ago, Christie Vive continues to gain momentum in the landscape of new-builds for immersive cinema sound solutions. Cinemark's selection of Christie Vive reflects their unrelenting drive to set a new standard in state-of-the-art sound technology."
Christie Vive Audio is a ground-breaking audio playback system that unlocks the full potential of the DCI digital cinema audio format and supports leading formats such as Auro 11.1, Dolby® Atmos™, 7.1 and 5.1 surround sound. The complete solution features screen channels, wall, and ceiling surround speakers that use unique ribbon driver technology in a single-enclosure line array design, purpose-built for cinema environments. Recognized for their exceptional timbre matching, enhanced voice intelligibility, and low distortion, the Christie Vive Audio system continues to establish its reputation worldwide as the next standard in immersive sound for cinema. The complete product offering also includes subwoofers and Class D amplifiers. For more information on Christie's new audio initiatives, visit http://www.viveaudio.com.
About Cinemark Holdings, Inc.
Cinemark is a leader in the motion picture exhibition industry with 503 theatres and 5,720 screens in the U.S. and Latin America as of June 30, 2015. For more information, go to investors.cinemark.com.
About Christie
Christie Digital Systems USA, Inc. is a global visual and audio technologies company and is a wholly-owned subsidiary of Ushio, Inc., Japan. Consistently setting the standards by being the first to market some of the world's most advanced projectors and complete system displays, Christie is recognized as one of the most innovative visual technology companies in the world. From retail displays to Hollywood, mission critical command centers to classrooms and training simulators, Christie display solutions and projectors capture the attention of audiences around the world with dynamic and stunning images. Visit http://www.christiedigital.com.
Follow Christie at:
Facebook.com/christiedigital
Twitter.com/christiedigital
"Christie" is a trademark of Christie Digital Systems USA, Inc., registered in the United States of America and certain other countries.
Christie Vive Audio™ is a trademark of Christie Digital Systems USA, Inc.
Dolby® Atmos™ is a trademark of Dolby Laboratories.