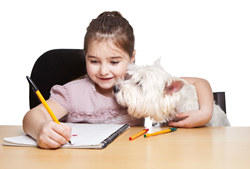 Greenwich, CT (PRWEB) September 10, 2015
Calling all creative kids! Bob Vetere, APPA President & CEO, is excited to announce that the association's non-profit campaign, Pets Add Life (PAL), is kicking off the 8th Annual Pets Add Life Children's Poetry Contest beginning September 1, 2015 through January 31, 2016. Students in 3rd-8th grade are encouraged to write original poems about the joys of owning pets of all types for a chance at top prizes for both themselves and their classroom.
Participants can submit poems via PAL's Facebook page at facebook.com/petsaddlife, online at http://www.PetsAddLife.org or mail final poems and submission forms to:
Pets Add Life
50 Washington St. Suite 100
Reno, NV 89503
The deadline for submissions is January 31, 2016 at 5 p.m. EST.
Additionally, teachers within these grade levels are welcome to incorporate this national contest into their lesson plans and submit poems in one entry on behalf of their classroom.
One student from each grade nationwide (6 total) will win a $250 gift certificate for pet products, and a potential "by-line" in a nationally circulated publication or online outlet. Additionally, the six winning students' classrooms will each win a $1,000 grant to spend on pet-related education or to support a classroom pet.
To learn more about the Pets Add Life Children's Poetry Contest, read previous winning poems, upload submissions, or download submission forms, please visit http://petsaddlife.org/childrens-poetry-contest or contact Ashlee Verba at 775.322.4022 or Ashlee(at)theimpetusagency(dot)com.
-###-
The American Pet Products Association (APPA) is the leading not-for-profit trade association serving the interests of the pet products industry since 1958. APPA membership includes more than 1,000 pet product manufacturers, their representatives, importers and livestock suppliers representing both large corporations and growing business enterprises. APPA's mission is to promote, develop and advance pet ownership and the pet product industry and to provide the services necessary to help its members prosper. Visit http://www.americanpetproducts.org for more information.