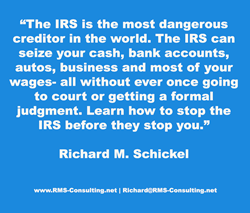 This book takes away the worry and fear that many people have in dealing with the IRS. It offers hope and tells you how to negotiate with the IRS and win.
Tucson, AZ (PRWEB) September 15, 2015
The thought of the Internal Revenue Service sends chills down most people's spines, and for good reason. Every year this government agency seizes tens of millions of dollars in cash, wages, bank accounts, houses, businesses and cars. "Overnight, it can potentially ruin someone's life," according to Schickel.
Now, one brave man – and previously one of the top enforcers for the IRS, Richard M. Schickel, speaks of his 33 years working as a tax collector for the IRS. His new book, IRS Whistleblower, is an insider's look at the most reviled and hated agency in the U.S. Government.
This book reveals secrets about IRS practices, procedures and people, it is also a memoir filled with suggestions on how readers can stop the IRS from coming to their door, potentially taking everything they have worked so hard to obtain. It will tell readers how to stop the IRS – before the IRS can stop them.
His book is designed to provide freedom from fear in any dealings with the IRS. It offers hope and wisdom as the author shares his knowledge of the mysterious IRS system. It offers guidance on how to legally pay less in taxes and interest and get penalties taken away, with the goal of helping take back one's life.
The book reveals hidden ways the public can protect themselves and their families from the IRS. Schickel shares IRS tax secrets to help negotiate a more reasonable IRS settlement or agreement, or perhaps get the IRS to back off entirely.
IRS Whistleblower gives readers the knowledge of tax laws that is needed to get a fair and reasonable settlement with the IRS. The more one can know about tax laws and how the IRS and its employees think, the easier it will be to deal with them successfully.
The book is designed to help stop the harassment and confusion many people feel when receiving IRS letters. Schickel claims that "the IRS fosters a culture of unyielding power and abuse which causes its own citizens to fear it." It is written with frankness, warmth and humor, and shares the insider knowledge that Schickel gained from his long experience with the IRS, so readers can successfully negotiate with the IRS – and win.
The book is essential reading for anyone in trouble the IRS, whether they are going through an audit, owe back taxes, or have been contacted by an IRS Criminal Agent. It will free readers from the fear, worry and stress of having to deal with the IRS alone.
Contact Info:
Richard Schickel at 520-448-3531 or Richard(at)RMS-Consulting(dot)net
Book Website http://www.theirswhistleblower.com
This compelling new book IRS Whistleblower is now available on Amazon and Kindle.