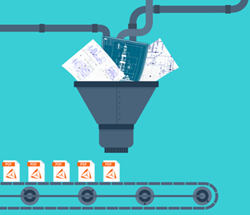 ActivePDF mitigates the risks of this document conversion process to ensure compliance, archiving, and collaboration demands are met.
Laguna Niguel, CA (PRWEB) October 13, 2015
ActivePDF, a leading provider of server-based PDF automation tools, announced the release of a new PDF automation tool. CADConverter is designed to batch conversions of CAD drawings, plans, and diagrams to PDF while addressing security requirements, regulations, and business mandates with 100% document fidelity.
By converting files to PDF, CADConverter eliminates the need to use the original CAD authoring application or specialized third party viewers to view CAD designs. This in turn makes distribution easy, supports collaboration, and ensures format consistency of shared CAD designs.
"To ensure document controls, converting documents to PDF format is often part of the workflow or records management process," says Jay Schlarb, Chief Operating Officer. "ActivePDF mitigates the risks of this document conversion process to ensure compliance, archiving, and collaboration demands are met."
CADConverter is integrated onto ActivePDF's proven DocConverter platform. For over 14 years DocConverter has been used by thousands of companies to convert business documents in high volume, enterprise-level environments.
CADConverter allows users to control CAD to PDF conversion throughout the enterprise, while managing the processes from a single location. CADConverter integrates document conversion into existing applications or workflow processes by creating watched folders for simple drag-and drop conversions. The easy-to-use Configuration Manager delivers the flexibility to schedule duration times to run conversions; configure watermarks; and add images or text to output PDF documents.
The end result: high-quality PDF representations of CAD drawings that empower all internal and external project team members to easily access, view, or email volumes of CAD drawings.
About ActivePDF
Founded in 2000, ActivePDF is a global provider of server-based PDF tools for integration within business processes, including Enterprise Content Management (ECM), Document Management, and Workflow solutions. The ActivePDF suite is designed to streamline the process of converting large volumes of complex files into secure PDF documents. ActivePDF serves organizations from numerous industries, including Healthcare, Financial, Manufacturing, Utilities, Engineering, Legal and Government. The company has a substantial market presence of over 23,000 customers and distribution in more than 300,000 server licenses within 90 countries. For more information, visit the company's website at http://www.activepdf.com.
####
ActivePDF is a registered trademark of ActivePDF. All other trademarks are property of their respective owners.