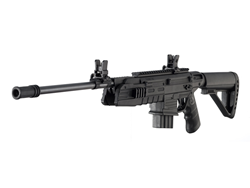 The G-Force Tac™ is the most advanced break barrel youth tactical air rifle from Gamo® Outdoor USA
Fort Lauderdale, FL (PRWEB) September 11, 2015
Gamo® Outdoor USA (http://www.gamooutdoorusa.com) has expanded its Youth Precision Airgun line for 2015 and is introducing the new G-Force Tac™ featuring a complete tactical design. The G-Force Tac™ is the most advanced break barrel youth tactical air rifle from Gamo® Outdoor USA and includes many of Gamo's top features from their premium airguns, totally designed with the youth market in mind.
It features components that are built completely in house by the European manufacturer, such as the metal rifled steel barrel, an all-weather tactical design black stock, multiple tactical rails, and open detachable battle sights.
This rifle offers Gamo's industry renowned build-to-last outstanding quality, dimensions and weight specially designed for young shooters; and also important, this product offers parents a great way to introduce young shooters to the sport - while teaching them the basics of shooting safety and target competition.
G-Force Tac ™ SPECS

.177 Cal.
Up to 750 fps with .177 PBA® Platinum pellets.
Metal rifled steel barrel.
All-weather tactical design black stock.
Tactical rails (upper, left and right sides)
Open detachable battle sights
Size: 41"
Weight: 4.31 lbs.
MSRP $139.95
For press inquiries, please email Fedor Palacios, Marketing Communications Manager (fpalacios(at)gamousa(dot)com)
Gamo® Outdoor USA is a leading consumer products company that designs, manufactures and markets a diverse portfolio of outdoor sporting goods products under such world class brands as GAMO®, BSA Optics®, Laser Genetics®, Aftermath®, and is the exclusive distributor of BSA Guns™ and Joker Knives®. For more information visit:
http://www.gamousa.com
Facebook.com/GamoOutdoorUSA
Twitter.com/GamoOutdoor
YouTube.com/GamoOutdoor