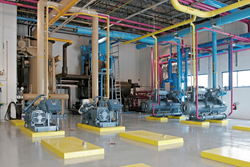 We can explain how the CO2/NH3 Cascade System can help lower costs by using significantly less power, and that is something that can benefit everyone.
Federalsburg, Maryland (PRWEB) September 11, 2015
M&M Refrigeration, the refrigeration industry leader in CO2 technology, has been selected to exhibit in the Innovations Showcase at Process Expo. This global food equipment and technology show will be held in Chicago, IL, September 15-18.
The Innovations Showcase is new to the Expo this year. Sponsored by the Food Processing Suppliers Association (FSA), it is a self-guided poster exhibition that spotlights new products, technology, and equipment. M&M Refrigeration was one of only 40 companies selected to participate.
At Process Expo, M&M Refrigeration will present a poster on its CO2 Cascade System. The state of the art CO2/NH3 concept by M&M Refrigeration is based on a cascade system that combines the advantages of CO2 on the low-temperature side with ammonia on the high-temperature side. Ammonia is limited to the engine room, and only CO2 is present in working, processing, and storage areas, making for a safer, more cost-effective, and environmentally friendly refrigeration system.
M&M Refrigeration's Cascade CO2 systems offer lower installation costs, lower refrigerant costs, and lower operating temperatures with higher production yields. No cooling is required on the low-temperature side compressors. In addition, CO2 systems always operate at a positive pressure.
Key points about M&M Refrigeration's Cascade CO2/NH3 system:

Typically runs 15% less than an equivalent 2-stage ammonia system
CO2 is less expensive than ammonia
Less material is needed to build the system
Less insulation is required
Does not contribute to global warming
Does not deplete the ozone layer
Commenting on the Innovation Showcase, M&M Refrigeration owner Duffy McConnell said, "This is an opportunity for us to demonstrate how the CO2/NH3 Cascade System works. We can explain how it can help lower costs by using significantly less power, and that is something that can benefit everyone."
M&M Refrigeration is the leader in CO2 technology in North America, having designed and constructed more CO2 refrigeration systems world-wide than any other US provider. M&M Refrigeration designs, engineers, and manufactures high-quality refrigeration systems for a variety of applications including food processing, cold storage, warehouses, and ice arenas. In 2007, M&M Refrigeration completed the largest CO2 cold storage plant in the world. The company employs world-class technicians and engineers, uses quality materials, and is committed to achieving lifelong customer satisfaction.
For more information, visit http://www.mmrefrigeration.com or call 410-754-8005.