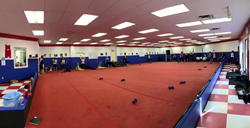 My team and I do absolutely everything we can to help our Fit Family see success...
(PRWEB) September 15, 2015
Owner Michele Rogers will host a Grand Opening ceremony on September 19, 2015 at 11204 Railway Avenue East from 11 am – 2 pm. The ceremony will feature a bouncy house, "mini" boot camp sessions, a raffle, healthy snacks, a hamburger sale, and face-painting.
Fit Body Boot Camp is the world's fastest growing and most popular indoor fitness boot camp brand, with hundreds of locations worldwide. The boot camp's unique brand of fitness combines individualized personal training from licensed professionals, clinically proven Afterburn workouts, and nutritional guidance to guarantee weight loss results.
"We are honored and privileged to bring this quality of fitness service to the Battlefords area!" said Rogers, "The culture, the community and the results we provide are like no others. We are the place where results happen. We are the place where your friends are. And we are the place where you receive everything you need to reach your health and fitness goals!"
Rogers has herself struggled with weight issues in the past, but she has always used that adversity to her advantage. When she realized that traditional weight loss methods were not working for her, she set out to create her own program. Now, as a Fit Body Boot Camp franchisee, she is eager to share the fun and empowerment that turned her own life around.
"With being clinically obese twice in my life, and overweight most of my adult life, I know the challenges, struggles and exhaustion of carrying extra weight," she said, "I know what if feels like to be judged for carrying the extra weight. I know what it feels like to judge myself...Once I got off the yo-yo dieting trap, and found how to release weight the healthy way, I knew I had to share that with others who felt the same way as I did, and who were tired of the cycle of yo-yo dieting. My team and I do absolutely everything we can to help our Fit Family see success…"
Rogers will donate proceeds from the raffle and the hamburger sale (provided by M & M Meats) to The Lighthouse Supported Living. The Lighthouse provides emergency shelter, supported living, and affordable housing to those in need. They will have an information table set up at the Grand Opening. Rogers hopes to raise $1000 or more for her donation.
About Battlefords Fit Body Boot Camp:
Battlefords Fit Body Boot Camp is a part of the Fit Body Boot Camp family of indoor fitness boot camps, whose global goal is to engage 20% of the world's population in a healthy and fit lifestyle by the year 2020. Battlefords Fit Body Boot Camp is owned and operated by Michele Rogers. Rogers is committed to helping members of the Battlefords community set and accomplish their own health and fitness goals.
For more information about Battlefords Fit Body Boot Camp, please call:
(306) 480-1077
Visit their website at:
http://www.canadafitbodybootcamp.ca/battlefordsfitnessbootcamp/
Or their Facebook page at:
https://www.facebook.com/Battlefords-Fit-Body-Boot-Camp-860398230677426/timeline/