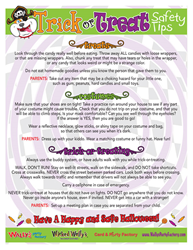 It is our hope that by sharing Halloween trick-or-treat safety tips that we will help to keep children safe while celebrating our favorite holiday, said Walter Erwin, President of Wally's Party Factory.
Ennis, Texas (PRWEB) September 14, 2015
A Saturday night Halloween is on the horizon. The spooky night will be filled with ghouls and goblins ready for an evening of trick-or-treating. Unfortunately, many different dangers can lurk in the dark of the night or even in a trick-or-treat bag. Wally's Party Factory has compiled a few safety tips for parents and children to ensure a safe night of Halloween fun.
Treats
Look through the candy really well before eating. Throw away all candies with loose wrappers, or that are missing wrappers. Also, chunk any treat that may have tears or holes in the wrapper, or any candy that looks weird or might be a strange color. Do not eat homemade goodies unless you know the person that gave them to you.
Parents: Take out any item that may be a choking hazard for your little one, such as gum, peanuts, hard candies, and small toys.
Costumes
Make sure that your shoes are on tight. Take a practice run around your house to see if any part of your costume might cause trouble. Check that you do not trip on your costume, and that you will be able to climb steps. Is your mask comfortable? Can you see well through the eyeholes? If the answer is yes, then you are good to go.
Wear a reflective necklace, glow sticks, or shiny tape on your costume and bag, so that others can see you when it's dark.
Parents: Dress up with your kiddo. Wear a matching costume or funny hat. Have fun.
Trick-or-Treating
Always use the buddy system, or have adults walk with you while trick-or-treating.
Walk, don't run. Stay on well-lit streets, walk on the sidewalk, and do not take shortcuts. Cross at crosswalks, never cross the street between parked cars. Look both ways before crossing. Always walk towards traffic and remember that drivers will not always be able to see you. Carry a cellphone in case of emergency.
Never trick-or-treat at houses that do not have on lights. Do not go anywhere that you do not know. Never go inside anyone's house, even if invited. Never get into a car with a stranger.
Parents: Set-up a meeting plan in case you are separated from your child.
"It is our hope that by sharing Halloween trick-or-treat safety tips that we will help to keep children safe while celebrating our favorite holiday", said Walter Erwin, President of Wally's Party Factory. "With Halloween being celebrated once a year, it's always a good idea to remind your children of the potential safety hazards."
Wally's Party Factory offers an extensive selection of party supplies, costumes and balloons for all occasions and themes including an extensive Halloween party department featuring Halloween costumes for all ages, costume accessories, Halloween decor, party favors, balloons, and tableware.
Wally's Party Factory has a company-wide commitment of appreciation for those that serve our community and nation by offering a 10% in-store discount to educators and members of the armed forces.
About Wally's Party Factory
Wally's Party Factory, based in Ennis, TX, is the nation's largest privately-held, family owned, multi-channel party supply and Halloween costume retailer. Wally's, which also operates in some locations as Card & Party Factory, Christmas Discount Warehouse (temporary Christmas stores) and Wicked Wally's Halloween Costumes (temporary Halloween stores) began over two decades ago and has grown steadily into one of the nation's best party-supply and Halloween costume merchants. Wally's is devoted to helping its customers celebrate the most important events in their lives by providing unrivaled customer service, offering an excellent selection of the best products, and pricing those products competitively. Wally's also gives back to local communities, each of which everyone at the company treats as home.
The company's 29 party stores are located in Texas and Oklahoma. To find a location near you, visit Wally's website at http://www.WallysPartyFactory.com. Here you can find more information regarding products, store hours, upcoming events, and unique party ideas.