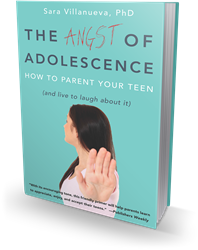 Dr. Villanueva provides perspective in the midst of angst.
Boston, MA (PRWEB) September 15, 2015
Bibliomotion, Inc. is thrilled to announce the launch of 'The Angst of Adolescence: How to Parent Your Teen and Live to Laugh About It' by Sara Villanueva, PhD.
Parenting is hard, and parenting teens is even harder. Around the time your child begins their second decade of life, things start to change in a fairly dramatic way, defined by terms like "Storm and Stress" and "the Terrible Teens." Adolescence is a time of important transition for both children and parents; from physical changes, to altered attitudes, to new interests in friends and relationships, parents often feel lost and overwhelmed during this tumultuous time.
If you are the parent of an adolescent, you might consistently find yourself asking, wondering, and worrying about one or many of the following:

Why do my teen and I argue so much? How do I lessen the conflict, and how do we stay close? Does she even like me anymore?
Why does my teen want to be with his friends all the time? Does he not love me anymore?
My daughter thinks she's in love. How does she even know what love is?
The "S" word: I'm not sure, but I think my son is having SEX. This scares me to death. What if he gets an STD? Or worse, what if he makes me a grandparent? How can I deal with this?
I know it's normal to be curious about alcohol and drugs, but how do I manage this without pushing too far?
Letting go: my son is going off to college and I'm feeling so sad. I don't want to be one of those overreacting moms, but I'm an emotional mess.
In The Angst of Adolescence: How to Parent Your Teen and Live to Laugh About It (Bibliomotion, Inc.; September 15, 2015), Sara Villanueva, PhD, helps parents navigate the issues and challenges associated with the teen years. As a psychologist and mother of four, she shares both research-based and first-hand advice to address how these transitions affect teens individually, and the family dynamic as a whole.
Villanueva examines the transformation of the parent-child relationship and provides scientifically proven reasons for this seismic relational shift between parents and their teenage children. From the onset of puberty, to moving away to college, she provides perspective in the midst of angst so that parents can come away with the sense that:

Parent-teen disputes typically aren't earth shattering. Conflict between parents and teens is usually over everyday issues such as homework, chores, getting along with siblings, and choice of friends, music, or clothing.
Shifts in social needs are normal. While children still love their parents, spending time with friends (in-person and online) is essential for psychosocial development.
Dating helps teens establish emotional and behavioral autonomy, and allows them to become healthy, mature, informed individuals who are training to be good relational partners.
Taking risks is necessary for cognitive development. Parents must give teens enough room to think for themselves and learn from their mistakes.
Independence does not mean "open rebellion." When teens strike out to establish their own feelings and opinions, they gain emotional autonomy from their parents.
With a little practice, and a lot of patience, Villanueva helps parents see past the petty arguments, unpredictable mood swings, and poor wardrobe choices. There is light at the end of the tunnel: "In late adolescence, your child gains perspective and also becomes significantly more mature—not just physically, but cognitively, socially, and emotionally as well. It's as though her brain and heart finally catch up to her body," she writes.
Villanueva's moral to the story is this: allow your kids some latitude—let them explore and find who they want to be. "The good news," she says, "is that things will get better, and everything is going to be okay."
Sara Villanueva, PhD, is Associate Professor of Psychology at St. Edward's University in Austin, Texas. As a developmental psychologist and a mother of four children (three in adolescence), she shares first-hand, real-life experiences of the perilous joys of raising teens. She received her B.A. in Psychology from the University of Texas at Austin, and then went on to attend the University of Florida in Gainesville, where she earned her MS and PhD in Developmental Psychology. Her area of specialization is in Adolescent Development with a specific focus on parent-adolescent relationships and parenting from various cultural perspectives. She teaches a range of courses such as Adolescent Psychology, Child Development, Cross Cultural Lifespan Development, Developmental Psychopathology, and Human Sexuality. She also conducts research and has studied teens and their families for years. In addition, she has published many articles and given a significant number of presentations to both academic and professional organizations around the globe.
An Interview with Sara Villanueva, Author of The Angst of Adolescence
Q: What prompted you to write this book?
I have studied the developmental period of adolescence for over twenty years. I've conducted research with teens and their families and have been published in peer-reviewed, scientific journals. Thanks to my wonderful colleagues in the field, there is a rich body of literature on both Adolescent Development and Parenting. The problem is that the majority of people who read these journals are either other psychologists and/or researchers, both of which are in academia. I started to wonder just how much of this vital, research-based information was actually getting to the people who need it most: Parents! Because I have three children who have either gone through or are going through adolescence, I've heard (and had) my share of moaning and groaning from parents. I am fully aware of parents feeling like their hair is on fire, with no relief in site, thanks to the bewilderment and confusion that comes with parenting a teen. So, I felt compelled to write a book that would speak to parents, in a voice that relates directly to them, to their feelings of frustration, sadness, anger, and pure joy. I wanted to convey to parents that I know exactly what they are going through.
Q: What are some of the main causes for angst in teens?
Transitions. The Biological, Cognitive, and Social transitions that come when children enter their second decade of life. Our society (i.e., the zeitgeist) also makes a different. Although going through the period of adolescence, and our collective perceptions of the teen years, haven't changed much, what has changed is the environment in which this development is taking place. Being a teen today is harder than ever before.
Q: What approach do you recommend to parents who are struggling with their teen's risky behavior?
I recommend incorporating patience, empathy, understanding, and humor into their perspective when it comes to raising their teen. Parenting teens seems like a dark cloud (or even a horrible storm) compared to the tranquil and joyful days of parenting infants and toddlers, but what they should realize is that it that the "Terrible Teens" is a temporary stage. They must think of the big developmental picture. Soon, their teen will be grown and gone, and they will likely even miss the conflict or angst caused by dirty socks on the floor or missed curfews.
Q: How can parents best establish a "No Judgment" household, specifically around topics relating to puberty, dating, and sex?
Communication is the key. Talk to yourself (i.e. think…really think), talk to your co-parent, talk to other parents, and especially talk AND LISTEN to your teen. It also helps immensely to tell parents to REMEMBER what it was like when you were in your teen's shoes. You were there once too, so it shouldn't come as a shock that your teen wants to hang out with friends, push limits, and question authority.
Q: In the age of helicopter parenting, what advice can you give to parents who are trying to promote independence and self-sufficiency in teens?
Give your child the tools to succeed and thrive (we do this during all the years leading up to adolescence) and let go a bit. We guide our teens and set expectations and limits, but we must then trust them to do what's right. Communication and trust go a long way with teens. It makes them feel like you're actually treating them like the adult they think they are. We must also be realistic in knowing that they WILL stumble, and perhaps even fall. We, as parents, must be willing to let them fail, and learn about natural (and parent-induced) consequences.
Q: How can parents keep lines of communication open with their children once they have left for college or moved out?
One thing I can say for sure is that parents need to hop on the technology bandwagon if we want to be part of the conversation with our grown children. They are constantly communicating via social media and smart phones, so yes, I text my teens, they text me back (and send pictures!). Don't be afraid to use what works for you and your teen. 
Praise for The Angst of Adolescence
"Villanueva, a developmental psychologist, uses an informal, conversational style in this helpful parenting book, sharing anecdotes from her own experiences as a mother of four who is currently raising two teens, as well as up-to-date information on brain development. Villanueva reminds readers that risky behaviors by teens reflect the fact that their brains are not yet fully developed. She also warns against 'drawing a line in the sand" as teens are likely to respond to 'forbidden fruits' with rebellion. With its encouraging tone, Villanueva's friendly primer will help parents learn to appreciate, enjoy, and accept their teens as they are, while patiently negotiating the challenges and changes inherent in adolescence." – Publishers Weekly
"With humor and great warmth, Sara Villanueva tackles issues that can seem unsettling or bewildering to most parents. Her voice is reassuring, and by the end of the book you know you're not only up for the challenge of parenting a teen, but that you're not in it alone." – Ami Albernaz, Boston Globe contributor
"While reading The Angst of Adolescence, I loved Sara's conversational voice, assurance, examples, information, and humor. I can't imagine any parent of a teen who wouldn't enjoy and profit from this mix of professional with personal insight." – Carl Pickhardt, PhD, author of the blog and book, Surviving Your Child's Adolescence
"[Villanueva] concentrates on the normalcy of teen angst and encourages focusing on the positive, reaffirming the belief that a deeper bond awaits us after the clouds clear." – Library Journal
"Sara Villanueva does a masterful job of balancing the sound advice of an experienced parent with the scientific literature of adolescent development and parenting. She strikes a tone that is both authoritative and completely conversational. I feel better equipped to tackle my son's upcoming transition into adolescence and wish this kind of parenting instruction manual were available sooner." – Russell Frohardt, professor of Psychology and Behavioral Neuroscience, St. Edward's University
"Sara Villanueva brings to light what so many parents of teens are feeling. By providing humorous anecdotes mixed with sound, research-based advice, all delivered in a relaxed and relatable style, she informs and reassures parents of the wonderful world of adolescence and how they can learn to laugh about it." – Vicki Hoefle, author of The Straight Talk on Parenting and the best-selling Duct Tape Parenting
"The Angst of Adolescence will help every parent understand how to go through this difficult stage without losing their mind. According to Sara Villanueva, you could even have some fun along the way!" – Jennifer Kerzil, PhD, associate professor of psychology, Université Catholique de l'Ouest, Angers, France
"Such a remarkable and much needed book! Dr. Villanueva's voice and personal stories, combined with her professional expertise, set the tone and made me laugh out loud! As a Dean of Students at a liberal arts university, and as a parent of a 16-year-old, the wisdom shared in this book is 'just in time' and speaks to the tumultuous times of transition that our teens experience and that we, as parents, encounter too. Her insight is smart, authentic, and extremely hopeful!" – Lisa L. Kirkpatrick, PhD, Associate Vice President for Student Affairs/Dean of Students, St. Edward's University
Bibliomotion is a book publishing house designed for the new publishing landscape. While many publishers work to retrofit old processes for new realities, Bibliomotion was founded by book-industry veterans who believe the best approach is a fresh one – one that focuses on empowering authors and serving readers above all else. Moving away from the top-down model that has dominated the publishing process for years, we give each member of the team – including the author – a seat at the table from the very beginning and in doing so, work side-by-side to launch and sell the best content possible, making it available in a variety of forms.