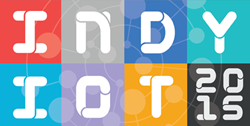 CloudOne is excited to bring together those defining Indiana's IoT community to exchange ideas and learn best practices in making it easier, faster and more economical to make things for the Internet of Things," said John McDonald, CEO of CloudOne
Indianapolis, IN (PRWEB) September 11, 2015
The Internet of Things (IoT) is effecting a wide range of industry sectors not only in Indiana, but around the world. The inaugural IndyIoT (http://www.indyiot.com) symposium, hosted by CloudOne, will take place September 24, 2015 from 1p.m. to 5p.m. at the Athenaeum Theatre, 407 E. Michigan Street in Indianapolis. The event will serve as a forum for IT professionals to learn how Indiana is shaping up in the IoT space.
According to a recent TCS Global Trend study on IoT, companies predict their IoT budgets will increase year-on-year, with spending expected to grow by 20 percent by 2018. With IoT emerging as the next big destination for investment, many industries are seeking to learn best practices for the development of solutions for building a connected business. IndyIoT will emphasize an understanding of the IoT continuum and organizational framework needed for effective IoT implementation. For instance, deep dive sessions will outline seven architectural elements to consider when launching an IoT initiative, such as: sense and connect; digitize and compute; aggregate; secure; analyze; predict and act.
Attendees will have the chance to learn from and engage with leading educators, technologists and executives in the field, including: Cummins, Rook Security, Honeywell, Roche, Blue Pillar, Freescale, Indiana University School of Informatics, Indianapolis EMS, CloudOne and Vai Logic. Forrester Research's Frank Gillett, vice president and principal analyst serving CIOs, will provide the keynote speech.
"CloudOne is excited to bring together those defining Indiana's IoT community to exchange ideas and learn best practices in making it easier, faster and more economical to make things for the Internet of Things," said John McDonald, CEO of CloudOne.
Supporting organizations for IndyIoT include CloudOne, Vai Logic and Cedar Technology Integration. Registration for IndyIoT is available at http://www.indyiot.com. General admission is $199. View the full list of speakers and keep up to date with the event on Twitter at @IndyIoT #IndyIoT2015.
About IndyIoT
IndyIoT is an exclusive afternoon symposium created to connect some of the most influential IoT leaders to see how Indiana is shaping up in the space. Explore the newest breakthroughs and IoT trends with burst presentations. Witness the future and innovation of IoT's future at IndyIoT. Follow us online at http://www.indyiot.com.
About CloudOne
CloudOne helps the world's best companies make their things for the Internet of Things. The company brings enterprise applications to the cloud, enabling global collaborative development, production and analysis of software and products in real time on individual, secure, private hybrid cloud environments. Trusted by leading brands, CloudOne's scalable technology is supported by a team of experts and partners who share a passion for making it easier, faster and more economical to make things for the Internet of Things. For more information, visit http://www.oncloudone.com.
# # #