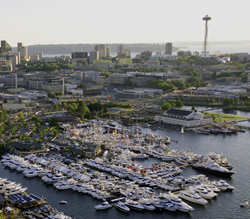 Seattle, WA (PRWEB) September 11, 2015
The Lake Union Boats Afloat Show sails into town on Wednesday Sept. 16th and the docks will be packed with more than 225 boats from approximately 125 exhibitors – more boats than any time since 2008.This year the boats on display are built from as close to Seattle as Bremerton and as far away as Italy and Australia. From the debut of a line of a sexy Italian RIB boats, to hull #1 of a locally-designed pontoon boat to many Pacific Northwest sailboat debuts, the Lake Union Boats Afloat show promises once again it is a not-to-be-missed event that should be on every boater and would-be boater's calendar.
The show's not just for adults or for mom and dad to shop for the boat of their dreams. It is also full of free activities for kids of all ages. Kids 8-16 can get on the water and be introduced to the thrill of small boat sailing with 60-minute free sailboat lessons. All ages can enjoy the Center for Wooden Boats hands-on toy boat building and the Coleman Company will be giving away 500 Sterns kids lifejackets on Saturday and Sunday of the show.
The show drops anchor on Wednesday Sept. 16th and sails on through Sunday 20th, 2015.
The show is open from 11 a.m. to 7 p.m. weekdays and 10 a.m. to 6 p.m. weekends.
Going to the show won't break the family piggy bank. Tickets are only $12 for adults. Kids under 11 are free, kids 11-17 get in for $5, and on weekends there is a nearby parking lot for $5 all day.
Selected Attractions and Promotions:
Most expensive boat in the show: At $6.8 million, the 2016 85 foot Ocean Alexander Motoryacht combines the latest in technology with the finest luxury appointments. Yachting Magazine said, "If the yacht were a person, she would be Grace Kelly in To Catch a Thief or Faye Dunaway in The Thomas Crown Affair. Cool. Slightly distant. Ever so desirable."
Free 60-minute sailing lessons for kids 8-16 on 13' Hobie Cat Waves courtesy of Sail Sandpoint. Lessons will be available on Friday Saturday and Sunday.
Free daily 45-minute sailboat rides for all ages on Lake Union on 30-40 foot boats through Discover Sailing.
Lessons and clinics: For new sailors or those wanting to improve their skills there are special packages with introduction to sailing lessons and anchoring and docking clinics run by Seattle Sailing Club: http://www.boatsafloatshow.com/sailing-lessons.htm
Center for Wooden Boats kids toy boat building Saturday and Sunday. Kids can use traditional tools to build and decorate their own wooden boat and see them float in the pond. Sponsored by Banner Bank
Kids Lifejacket Giveaway: Water safety awareness in and around the water is an important lesson for kids. 500 free kids lifejackets will be given away on Sept. 19 and 20. Kids must be present to receive the lifejacket while supplies last. Sponsored by The Coleman Company
Sea Gals Appearance
For 12s of all ages! Come meet the Seattle Sea Hawks Sea Gals. Trinity and Alexis will be there greeting fans, signing autographs and posing for photos. Saturday Sept. 19: 12 noon.-2 p.m.
About the 2015 South Lake Union Boats Afloat Show
The South Lake Union Boats Afloat Show opens on Wednesday September 16th and runs through Sunday September 20th, 2015 at Chandler's Cove on South Lake Union. Admission is $12 for adults and $5 for youth (12-17). No charge for kids 11 and under. A multi-day pass is $18. Buy your tickets online and receive a one year's subscription to Sea Magazine, $10 Gift Card to El Chupacabra restaurant at South Lake Union and a free paddleboard or kayak rental from Mountain to Sound Outfitters. Hours: Weekdays 11 a.m. – 7 p.m. and weekends 10 a.m. – 6 p.m.
Website: http://www.boatsafloatshow.com
Facebook: https://www.facebook.com/Boats-Afloat-Show-South-Lake-Union-Seattle-348429820310
Editor's note: Show photos available at http://www.boatsafloatshow.com/gallery.htm Photos of individual boats available on request.
Show Office: 206-748-0012
Media Contact: Lisa Samuelson, Samuelson Communications lisa(at)samuelsoncom(dot)com or 206-954-2574
The 2015 Lake Union Boats Afloat Show is presented by Global Marine Insurance Agency and Eco Cruiser
###