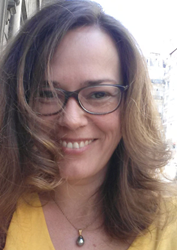 The IXIASOFT DITA CMS is a globally-recognized, best-of-breed product for managing DITA content, and I am thrilled to be part of such a high-calibre team. - Nolwenn Kerzreho
Montreal, Quebec (PRWEB) September 14, 2015
IXIASOFT, a global leader in the component content management systems (CCMS) marketplace, announced today that Nolwenn Kerzreho officially joined their team as a Technical Account Manager for Europe.
Based in France, Kerzreho will consolidate the business development strategy for IXIASOFT in Europe and take charge of advancing the sales of their signature product, the IXIASOFT DITA CMS. Kerzreho's previous experience and knowledge of DITA and XML has set a strong foundation for her to help IXIASOFT's European-based customers and partners reap the benefits of working with DITA and the IXIASOFT DITA CMS.
"I'm very happy to join IXIASOFT and lead their European efforts," says Kerzreho. "The IXIASOFT DITA CMS is a globally-recognized, best-of-breed product for managing DITA content, and I am thrilled to be part of such a high-calibre team."
"We are more than happy to bring Nolwenn onto our team. Her expertise in technical writing, content management and DITA is exactly what we were looking for to help lead our business development efforts in Europe," said Eric Bergeron, CEO of IXIASOFT. "Nolwenn is the real deal: an experienced technical writer / translator with DITA XML knowledge, plus experience with previous CMS implementations and helping documentation teams with their content strategy. She has what it takes to further develop the European market and work with our present and future partners and customers."
Kerzreho has over 10 years of experience in the technical communications industry as a project manager, technical writer, instructor, and presales consultant. She is well known within the DITA and technical writing community thanks to her presentations at leading industry events. Kerzreho is also in charge of developing the technical communication specialization in the European Master in Translation at Université Rennes 2 in Brittany (France), where she introduced DITA in 2009 and has been teaching for over 7 years. Kerzreho has been an active member of the Society of Technical Communication - French Chapter since 2008.
Kerzreho will be presenting at Best Practices 2015 (St. Petersburg, Florida), LavaCon 2015 (New Orleans, Louisiana), and will attend tekom 2015 (Stuttgart, Germany), DITA OT Day 2015 (Munich, Germany), and DITA Europe 2015 (Munich, Germany) representing IXIASOFT.
About IXIASOFT: Founded in 1998, IXIASOFT is a trusted global leader in the XML content management software industry. Its signature product DITA CMS is an award winning, end-to-end component content management solution (CCMS) that has been deployed by industry leaders such as SAP®, ARM®, AMD and BlackBerry®. From authoring to reviewing, localizing and publishing, DITA CMS provides all the tools required for large, global organizations to support their entire DITA documentation process. IXIASOFT is also the developer of TEXTML Server, a native XML database and powerful search engine. IXIASOFT solutions are accessed by thousands of users worldwide in various vertical markets such as software, hi-tech, newspaper, and medical device manufacturing.
For more information, please visit http://www.ixiasoft.com or connect with IXIASOFT on Twitter and LinkedIn. Already a DITA CMS user? Join the IXIASOFT DITA CMS User Group on LinkedIn.