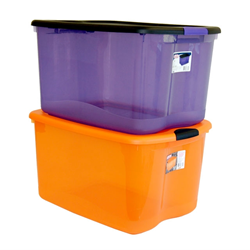 Urbana, IA (PRWEB) September 14, 2015
Online retailer JustPlasticBoxes.com has recently added several new Halloween storage products in orange, black and purple color combinations. The collection includes both clear and opaque plastic storage totes, as well as milk crate-style pieces and Flip-N-Stack baskets.
Barb Rawson, a product specialist for the Iowa-based company, says Halloween storage products are always a popular line, since they're an easy way for customers to organize, protect, and store Halloween decorations year after year.
The Sterilite 66 quart storage tote is one product that features a new coloration in a translucent colored plastic, making it easy to see what is stored inside.
"With JustPlasticBoxes storage, last year's decorations look as good as they did when there were packed away," says Rawson. "Our totes are also stackable to maximize your storage space."
Halloween is fun for all ages, and this year's line carries that theme with fun orange and purple styling making them easily identifiable when consumers look to decorate and store their decorations.
Rawson says the totes are available for a limited time only during the Halloween season.
An addition to this year's line is the popular Flip-N-Stack Baskets by Dial now also available in Halloween colors. The baskets are designed with rotating handles allowing them to stack on top of each other, or collapse for easy storage inside of each other. The website now offers large sized baskets in purple, orange and black. This specific style is great to use as Halloween storage or to implement with Halloween decor.
JustPlasticBoxes.com incentivizes bulk orders and offers free shipping. A chart on each product page breaks down the price and discount based on quantity. However, single items can be purchased by calling the JustPlasticBoxes sales team toll free at 800-736-0651.
About JustPlasticBoxes.com
JustPlasticBoxes.com is owned by Clickstop, Inc., an online retailer of niche brands in several different categories. Websites under the Clickstop company umbrella also include SpaceSavers.com, USCargoControl.com and EcoFoil.com. With strong vendor relationships from Clickstop's large e-commerce presence, JustPlasticBoxes is proud to offer high quality brand name plastic storage boxes at value prices with free delivery.