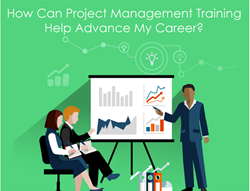 Employees who have project management training and certification are able to bring more to their employers
(Salem, VA) (PRWEB) September 15, 2015
American National University, a career-focused institution with more than 30 campuses, has created an infographic that explains the many benefits of project management training. "How Can Project Management Training Help Advance My Career?" defines what project management is and its importance across many industries and businesses. From technology and telecommunications to healthcare and higher education, project management helps enhance product and service quality, increase productivity, and bring improved overall results to businesses.
According to the infographic, employees who have project management training and certification are able to bring more to their employers and themselves. Their leadership, problem-solving, and communication skills are sought after in the job market and help them find better employment and career advancement.
The infographic notes that American National University incorporates the principles of project management across its curriculum. It highlights the ANU bachelor's degree in business administration--management, noting that it is one of the only bachelor's programs in the country to prepare students for the globally recognized CAPM® (Certified Associate in Project Management) certification.
Among the skills taught in the ANU program are:

Organizational value
Effective business communication
Business management techniques
Enhanced critical thinking and strategic planning
Leveraged use of financial models and principles
In-depth business theory and practical management applications & practices
Formulation of sound, outcome-driven decisions as they relate to real-world business situations
Those interested in learning about project management can access the infographic right now or visit the school's website for more information.
About American National University:
American National University is a career-focused institution that offers more than 45 academic programs through 30 community-based campuses in six states, as well as online. Founded in 1886, ANU has a long history of providing essential skills to an evolving workforce and it remains committed to doing so into the 21st century and beyond. ANU has won numerous awards including the Association for Private Sector Colleges & Universities TOPS Award (2012), the Top 15% Military Friendly School (2010-2014), and a Lifetime Achievement Award (Imagine America Foundation, 2012) recognizing American National University President Frank Longaker's 40 years of service to the career college sector. American National University is accredited through the Accrediting Council for Independent Colleges and Schools.