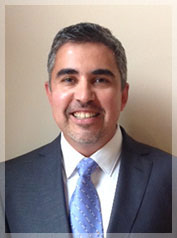 Minneapolis, MN (PRWEB) September 10, 2015
September is National Self-Improvement Month, and Andres R. Sanchez, DDS, MS, is pleased to offer residents of Minneapolis, MN, dental implants, which provide aesthetically pleasing and functional replacements for missing teeth. When a person needs a whole upper or lower plate, Dr. Sanchez recommends implant-supported dentures. At his office in Edina, even patients who have lost bone structure in their jaw may still be candidates for implants, with the innovative advancements of the All-on-4™ treatment.
Removable dentures rest against the gums and are typically affixed with a sticky paste. This adhesive often lacks durability to withstand the biting and chewing of crunchy or sticky foods. Many denture users must forego favorite foods to prevent the loosening of their teeth in public. When a person is affected by missing teeth, the jaw loses the stimulation provided by the roots, during chewing motions. As a result, the bone deteriorates and is absorbed into the system. This alters the shape of the jaw and shrinks the appearance of the facial structure. Dentures no longer fit appropriately, and they are more likely to shift, creating embarrassing noises when a person is speaking.
In Minneapolis, MN, dental implants provide the solution to bone deterioration, with surgically implanted posts that simulate new tooth roots. They provide the same stimulation and stability, once offered by the natural tooth root. Those who have already experienced a significant loss of bone density, or those who may require an entire dental plate, may not be eligible for individual implants, but implant-supported dentures are often still an option. Dr. Sanchez frequently recommends the All-on-4™ treatment method for these situations. Four posts are placed strategically in areas with the most density, and two are angled to provide the best support, allowing the periodontist to affix a plate that is ready for immediate use.
Anyone in Minneapolis, MN, who is missing teeth and wants to celebrate Self-Improvement Month with dental implants, can contact Dr. Sanchez's office in Edina for an exam and consultation.
About the Practice
PerioWest is a periodontal practice offering personalized dental care for patients in Eden Prairie, MN and the Twin Cities areas. Dr. Andres R. Sanchez received his Certificate & Master's Degree in Periodontics from the prestigious Mayo Clinic in Minnesota in 2004. He is a Board-Certified with the American Board of Periodontology. In addition, Dr. Sanchez has been involved as a primary author in more than ten scientific papers published in major periodontal and implant dentistry journals. To learn more about Dr. Sanchez and the services he provides, please visit his website at http://www.periowestmn.com or call (952) 479-4705.