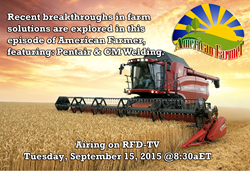 American Farmer is dedicated to exploring the most innovative and groundbreaking changes taking place in the industry.
Jupiter, FL (PRWEB) September 11, 2015
American Farmer announced today an episode airing Tuesday, September 15, 2015 at 8:30 am ET on RFD-TV.
In this segment of American Farmer, audiences will learn how recent changes in regulations and new chemical formulations are changing the landscape of spraying. Spray nozzle selection is becoming more important than ever. Improved coverage and uniformity when applying insecticides, herbicides, fungicides, and liquid fertilizers produces higher yields and more efficient operations. Viewers will also learn about Pentair's new ProStop‐E 12 volt actuated valve that provides instantaneous on/off control at the nozzle to decrease misapplication and waste.
"Today's farmers have to juggle a lot between the new spraying regulations, new chemical options and their limited time and resources," says Dave Furlong, platform director for Pentair. "Pentair's Hypro brand of spray products works to understand the grower first and then educate them on innovative solutions that address their needs."
In addition, the show will explore CM Welding, a company dedicated to providing innovative products to farmers around the country. In 2014, American Farmer featured CM Welding for the first time to educate viewers on standard rotor loss and how CM Welding's RPR Thrashing/Separating Concave System results in a smaller net loss of product. This year, American Farmer looks at CM Welding again to educate audiences on the newest products and technologies launched by the company, which are revolutionizing the industry.
"American Farmer is dedicated to exploring the most innovative and groundbreaking changes taking place in the industry," said Charlie Cowan, Producer for the American Farmer series. "We look forward to enlightening our viewers on the amazing things these key players are doing for the industry."
About American Farmer:
American Farmer is a breakthrough program on a mission to showcase the latest advancements in agriculture and farming. From seed to harvest, livestock and more, our producers have traveled the country covering the people, places and issues impacting all areas of farm country.
American Farmer airs Tuesdays at 8:30am ET on RFD-TV. Check your local listing for show times. For more information visit: http://www.AmericanFarmerTV.com or contact Charlie Cowan at: (866) 496-4065 x 75or via email at: charlie(at)AmericanFarmerTV.com.