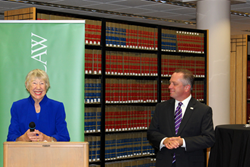 This dynamic legal educator, with her driving determination, made this very library possible.
GULFPORT, Fla. (PRWEB) September 10, 2015
On a Friday evening in August, the Stetson University College of Law community gathered in the Dolly & Homer Hand Law Library to celebrate the legacy of Dean Emeritus and Distinguished University Professor Lizabeth A. Moody.
On Aug. 28, Stetson Law dedicated the Dean Lizabeth A. Moody Seminar Room in the library that Moody helped build. The seminar room was frequently used by Dean Moody for her nonprofit corporations class at Stetson. Moody was one of the first to pioneer teaching law students in small seminar groups, a popular method used in law schools today.
"This dynamic legal educator, with her driving determination, made this very library possible," said Dean and Professor of Law Christopher Pietruszkiewicz.
Seventeen years ago during her five-year tenure as dean at Stetson Law, Moody raised the money to build Stetson a beautiful new law library, on par with the quality of a legal education from Stetson. She ensured that the blueprint for Stetson's new law library would include at least 20 private and group study rooms for students.
U.S. Supreme Court Justice Ruth Bader Ginsburg, a personal friend of Moody, delivered the dedication address at Stetson Law's library in 1998.
"I think our library is one of the five best law school libraries in the country," Dean Moody remarked.
Moody, inducted into Stetson's Hall of Fame in 2009, also helped create Stetson's part-time law program and international programs.
In January of 2013, the National Jurist Magazine named Dean Moody one of the top 25 most influential people in legal education. The American Bar Association Women Trailblazers in the Law Project selected Moody in 2012 to be included among women who made history in the legal profession.
Before arriving at Stetson, Moody helped advance equality for women in the legal profession. Moody was one of only seven female graduates in her Yale Law class of 160 students. A partner in a prominent Cleveland law firm, Moody was the first female president of the Cleveland Bar Association and one of the first women to receive an AV rating by Martindale Hubbell. The city of Cleveland named the day of May 8, 1990, in honor of Lizabeth A. Moody.
She was dean of two law schools, teaching at several law schools across the country. Moody was also a leader in state, local and national bar associations who received honors including the Ohio State Bar Medal, Josephine Irwin Award, American Bar Association Glass Cutter Award and ABA Author's Award.
As a member of the Cleveland State University faculty, Moody served as interim dean. As president and CEO of Law School Admissions Services, Moody founded the Access Loan Program.
Moody's oral history of her extraordinary legal career is housed at the Library of Congress, the Arthur and Elizabeth Schlesinger Library on the History of Women in America at Harvard University, and on the ABA website.