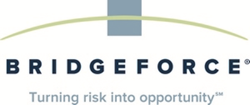 Debb will help our clients move forward with the latest tools and technologies in a prudent way. - Matt Scarborough, CEO
Chadds Ford, PA (PRWEB) September 11, 2015
Joining Bridgeforce as Director-US Practice, Debb Gordon brings over 25 years of experience in regulatory compliance, risk management, scorecard analytics, business intelligence, fraud systems/strategy development and credit reporting. Before teaming with Bridgeforce, Debb held key positions at the CFPB, Citi and FICO contributing to her in-depth knowledge in both big data and credit bureau management.
"Debb's recent leadership role at the CFPB included substantial focus on credit bureau issues, leveraging big data, and challenges in fair lending," said Matt Scarborough, CEO of Bridgeforce. "The combination of her recent experience with her innovative mindset and extensive knowledge across an array of decision-science disciplines puts Debb in a uniquely strong position to help our clients move forward with the latest tools and technologies in a prudent way."
Debb will immediately assume multiple duties with Bridgeforce including leading the continued growth of the Bridgeforce© Data Quality Scanner™ Solution (a software tool focused on credit bureau accuracy for furnishers) and driving client engagements focused on model design and/or model validation.
About Bridgeforce
Bridgeforce is a specialized multi-national consulting firm serving a variety of clients involved in almost all aspects of the consumer and small business lending and payments space. Over 75 percent of Bridgeforce consultants come directly from client-side leadership positions across multiple parts of the credit lifecycle. Combined with subject matter expertise in operations, technology, strategy and regulatory issues, Bridgeforce has the knowledge and experience to make the hard choices in developing and implementing best-fit solutions that are both achievable and lower the risks of execution to ensure sustainability. Bridgeforce success can be attributed to a culture fostering innovation and evolving experienced-based best practices recognized within the industry. For more information, visit http://www.bridgeforce.com.