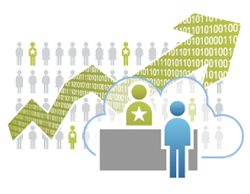 We're excited about demonstrating major software upgrades to our applications for workforce at BAI Retail Delivery.
San Diego, CA (PRWEB) September 15, 2015
Kiran Analytics – a leader in intelligent branch transformation – announced today that it will showcase major software upgrades to its analytics applications for workforce at BAI Retail Delivery 2015 Conference, the premier event of the retail banking industry to be held in Las Vegas on October 13-15th.
Each year, BAI Retail Delivery brings together the most influential financial services leaders in the industry, showcasing emerging technologies and innovative products, services, practices and processes that enable banks to support customers worldwide. This year, Kiran Analytics is the sponsor of The Banking Transformation Summit at BAI Retail Delivery 2015.
Jim DeLapa, CEO of Kiran Analytics said, "We are really excited about demonstrating major software upgrades to our applications for workforce at BAI Retail Delivery". DeLapa added, "One of the key motivations for these upgrades was mobile-friendly user experience. Our Scheduler application now runs on tablets like the iPad making it even easier for branch managers to optimize team schedules. New dashboards enable branch managers to visualize the quality of their schedules and pinpoint potential scheduling over and above the FTE plan produced by our Forecaster application."
Most banks are deploying universal bankers in order to adequately cover customer demand while aligning their branch workforce with changing consumer needs. Universal bankers are capable of performing personal banker, teller, and customer service roles. Because the universal banker concept is new and implementations vary depending on the retail delivery strategy, managers need help with planning and scheduling this resource. A new dashboard in Kiran's Scheduler helps branch managers visualize whether the scheduled time reflects the bank's target breakdown for universal banker roles.
"We also made major upgrades to our Recruiter application to improve mobile-friendly user experience for both candidates and recruiters", said DeLapa. "Kiran's Recruiter has been used by over two million candidates already. A significant number of candidates are taking our predictive assessments on their mobile devices. The same is true for recruiters. Many recruiters and hiring managers are scheduling interviews on their tablets. With the new enhancements, our Recruiter application will further increase the speed of hire."
Another major functionality improvement in Kiran's Recruiter application is support for predictive assessments to measure candidates' cultural fit, work style fit, and work tolerance. With these new assessments, banks can configure custom talent acquisition solutions specific to their organization for all positions including those in branches, call centers and back office operations. The ability to identify cultural fit and best fit for the job increases organizational effectiveness and employee job satisfaction.
In addition to analytics for workforce application demonstrations, Kiran Analytics leaders and the Retail Banking Advisory Board members will hold executive interaction meetings to discuss their branch transformation insights. Participants of the Kiran Analytics Business Executive Interaction Meetings will have the opportunity to meet with Kiran's thought leaders and advisors. The executive interaction meetings will be led by Betty Cowell, former Vice-Chair of BAI, in Meeting MR222 in the Expo Hall.
Kiran Analytics
Kiran Analytics drives intelligent branch transformation for retail banks through the application of predictive analytics. Kiran's solutions have been deployed in over 10,000 branches helping to forecast optimal branch staff levels accurately, hire better people faster, and to plan and schedule resources efficiently. As a result, retail banks increase sales and customer service while reducing operational costs. Kiran Analytics is a member of Bank Administration Institute (BAI) and Consumer Bankers Association (CBA).