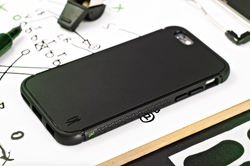 Lehi, Utah (PRWEB) September 11, 2015
BodyGuardz®, a leader in the device protection industry, announced today the launch of its new Contact and Shock phone cases – the only cases on the market to be lined with Unequal® patented technology. The BodyGuardz phone cases will be available to the public in AT&T retail locations nationwide on September 11, 2015.
Both the Contact and Shock cases come lined with the same Unequal technology that professional athletes use to protect themselves from collisions on the field, mountain, and ice. Made with Kevlar® and Accelleron®, the Unequal lining absorbs and disperses impact, minimizing shock to the device.
"We couldn't be more excited to debut these cases nationwide," said Kirk Feller, CEO of BodyGuardz. "We anticipate the BodyGuardz phone cases quickly becoming best-sellers."
The Contact case is available for $40 and features a TPU bumper with clear polycarbonate back. The Shock case is available for $35 and has full soft-touch TPU construction with a textured interior. Both cases are designed to fit with ScreenGuardz Pure®, an award winning tempered glass screen protector by BodyGuardz, to provide a complete, ultra-protective solution.
The BodyGuardz Contact and BodyGuardz Shock will be available in Black, Pink, or Blue color options for the iPhone 6 and iPhone 6 Plus.
For more information, visit bodyguardz.com/unequal.
About BGZ brands
BGZ Brands, formerly known as BodyGuardz, was founded in 2002 as a device protection company and has since become the parent company of a lean portfolio of brands, including: BodyGuardz®, a leading device protection company; Lander, expedition-inspired accessories; and Moxyo, modern accessories for the masses. For more information, visit BGZbrands.com.
About Unequal Technologies
Unequal is a premier supplier of supplemental protection technology, committed to help reduce blunt force trauma suffered by athletes and soldiers. Unequal uses a patented fusion of a military-grade composite made with Kevlar®, Accelleron® and optimal ImpacShield™ for customized protection, and owns over 85 international and U.S. patents and patents pending. Professional athletes in the NFL, MLB, NHL and X Games, as well as thousands of collegiate and youth athletes trust Unequal for protection. For more information, visit: http://www.Unequal.com.
Kevlar® is a registered trademark of E.I. du Pont de Nemours and Company or its affiliates ("DuPont"). Use of the Kevlar® mark herein is for source identification only and does not indicate or imply any license, affiliation, endorsement, or sponsorship of UNEQUAL or BODYGUARDZ products by DuPont.