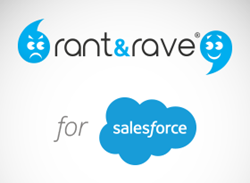 There's little more powerful than the actual verbatim comments of a customer to drive business change.
Warwickshire (PRWEB UK) 11 September 2015
The new solution will empower Salesforce customers to harness all the power of Rant & Rave's Frontline Engagement technology from within their existing Salesforce dashboard. Where Salesforce presents brands with a full history of how their customers have interacted with them, the Rant & Rave solution complements this information by capturing real-time feedback and mapping how their satisfaction levels change over time.
Whether a customer decides to unexpectedly share their thoughts or the brand initiates a request for feedback and the customer responds, each item of feedback is passed from Rant & Rave directly into Salesforce. Rant & Rave's Sentiment Engine understands which areas of the business the customer is talking about and whether they're mentioning it in a positive or negative light, negating the need for each comment to be read individually. In addition the system will identify whether a customer has made a suggestion, legal threat or business threat and flag that item of feedback accordingly so it can be routed to the right part of the business for immediate action.
Not only is each comment tracked against the individual customer it has come from, it's also linked back to the employee representative they have been interacting with - for instance an agent in a call centre. The insight gathered is presented back in a gamified dashboard, presenting agents and their supervisors with an instant overview of how they're performing - identifying training needs, opportunities for praise and introducing a competitive edge to performance measurement.
By keeping track of past feedback call routing can also be enhanced - agents who are particularly skilled in one area can have specific calls directed to them, whilst shifts can be planned around key competencies.
Comments on the news:
Dennis Fois, Rant & Rave CEO said "There's little more powerful than the actual verbatim comments of a customer to drive business change. The combination of Rant & Rave and Salesforce enables the world's best brands to empower staff to take action with a practical solution to the execution challenge many brands are still facing with their CX programmes."
"Companies are looking to transform the way they connect with customers, partners and employees to thrive in today's connected world," said Ryan Ellis, VP, Product Management, AppExchange, Salesforce. "By leveraging the power of the Salesforce App Cloud, Rant & Rave provides customers with the proven social, mobile and connected cloud technologies to accelerate business success."
Built on the Salesforce App Cloud, the social, mobile and cloud customer platform built to transform sales, service, marketing and analytics, Rant & Rave for Salesforce is currently available on the ​AppExchange at http://www.appexchange.com.
Notes to Editors
About Rant & Rave
Rant & Rave's multi-channel solutions let brands proactively communicate with and gather fast feedback from their customers to manage and measure the customer experience. By providing solutions which are customer, not brand, centric Rant & Rave helps its clients to transform Ranters into Ravers and turn happy customers into lifelong advocates.
To find out more about Rant & Rave visit http://www.rantandrave.com.
About Salesforce AppExchange
Salesforce AppExchange is the world's leading enterprise apps marketplace that empowers companies to sell, service, market and engage in entirely new ways. With more than 2,800 partner apps and more than 3 million customer installs, it is the most comprehensive source of social, mobile and connected cloud apps for business.
Like Salesforce on Facebook:http://www.facebook.com/salesforce
Follow Salesforce on Twitter: https://twitter.com/salesforce
Salesforce, Salesforce App Cloud, AppExchange and others are among the trademarks of salesforce.com, inc.