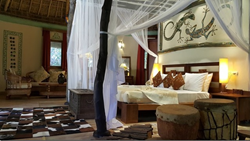 "It's a great example of what we know appeals to the modern luxury traveller in that it really is one of a kind, offering individuality, a distinct character and a real sense of place – attributes you rarely find with branded resort hotels."
London, United Kingdom (PRWEB UK) 14 September 2015
As contemporary definitions of luxury shift from opulence and ostentation to something a little more authentic, the latest addition to the Luxury Hotels Group portfolio is blazing the trail. At Zanzi Resort, an African gem on Zanzibar's west coast, authenticity is a watchword. There are no crystal chandeliers or white gloved butlers here – instead, a celebration of traditional African construction in the form of thirteen beautifully designed villas beside a private beach.
Winner of the "Best Ecologically Responsible Property of 2015, Safari Awards", Zanzi Resort launches six new 'African Eco Villas' this month – the perfect example of the kind of experiential luxury increasingly favoured by millennial travellers.
These deluxe villas, promising the ultimate environmentally friendly holiday, combine the uniqueness of a genuinely African feel with a refreshingly laid-back luxury, offering a wide range of exclusive amenities including a rustic chic spa and open-air gym.
Mr Marek Bukala, Director and owner of Zanzi Resort, explains: "Buildings made of wood and clay have been built in Zanzibar for hundreds of years, so we thought; why not try it in a luxury hotel?" Each Eco Villa has been inspired by traditional Zanzibar homes, built with the help of local craftsmen using only regional materials and time-honoured construction techniques passed down through generations. The design of the Eco Villas also incorporates an inventive architectural twist to make better use of natural light - recycled glass bottles encased within the clay walls allow the sun to enter and illuminate your room. Made of wood and clay they may be, but these villas are as spacious as any presidential suite, and far more characterful.
While the exteriors are true representations of Tanzanian architecture, interiors are generously endowed with all the features you'd expect of a luxury hotel – this is character that doesn't compromise on comfort. Guests can also enjoy original artwork that evokes the African setting, and the villas open onto lush tropical gardens with shared access to the resort's large swimming pool. The beach is a mere two minute stroll.
Zanzi Resort appeals especially to the new, environmentally aware traveller looking to enjoy an unforgettable experience while at the same time respecting, and immersing themselves in, the culture and traditions of their destination.
Bernadette Koltai, Luxury Hotels Group's Vice President, said of the resort: "It's a great example of what we know appeals to the modern luxury traveller in that it really is one of a kind, offering individuality, a distinct character and a real sense of place – attributes you rarely find with branded resort hotels"
Zanzi Resort has a total of 13 luxurious villas. Six are brand new Eco Villas while the remaining seven are Ocean View villas with private swimming pools. Cliff top villas have access to their own private beach. Exclusively with Luxury Hotels Group, guests can enjoy an extra night and dinner on the beach with our compliments to celebrate the launch of the new African Eco Villas. To find out more and to book best available rates, visit http://www.luxuryhotelsgroup.com/mar/opening_special/