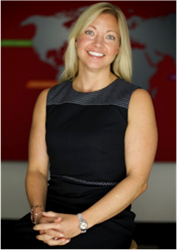 She is a recognized leader not only in our industry but for men and women alike across Allegis Group.
HANOVER, MD (PRWEB) September 11, 2015
Allegis Global Solutions (AGS) is proud to announce that one of its leaders, Jessi Guenther, has been honored in the Staffing Industry Analysts (SIA) 2015 Global Power 100 Women in Staffing List.
The list recognizes and honors women around the globe who are thought leaders, who share the passion for promoting and shaping talent, and who are influencing the staffing industry.
Jessi began her career as a recruiter with Aerotek, an Allegis Group operating company, in 1997. After moving to Allegis Global Solutions in 2004, she held various leadership roles within Operations, gaining experience in MSP solutions across a variety of clients. In 2008 she was asked to move to Seattle, WA to build and manage one of the most complex MSP programs in the AGS portfolio. Following her success, in 2012, Jessi moved her family including her husband and two young sons to London as an Executive Director of Operations for our EMEA region. In her role, Jessi focuses on leading and growing the market and MSP service offering in EMEA, while providing more effective management of key global and regional accounts.
"Jessi is the foundation of AGS. She has been a partner for over 10 years and was one of the first people we added to our AGS team as we grew our business. She epitomizes what it means to live our core values and brings her best to her team and the company every day. She is a recognized leader not only in our industry but for men and women alike across Allegis Group". Chris Hartman, President of Allegis Global Solutions
Jessi is joined on the SIA Global Power 100 list by two other Allegis Group leaders. Tanya Axenson, Vice President of Human Resources - Allegis Group, and Stacey Jenkins, Vice President of Human Capital Solutions – Aerotek, were also recognized for their leadership, passion, and achievements in the staffing industry.
Congratulations to all of the Allegis Group leadership honored by the SIA Global Power 100 - Women in Staffing list. This recognition is well deserved, and Allegis Group is fortunate to have these women leading our teams and the industry.
About Allegis Global Solutions
Allegis Global Solutions, a subsidiary of Allegis Group, transforms how businesses acquire talent, with a culture that is passionate about great talent, delivering innovative, client-focused solutions in markets across the globe.
About Allegis Group
Allegis Group, Inc., founded in 1983, is the largest privately-held talent management firm in the world. Allegis Group serves its customers through several business units that provide staffing services and solutions to a wide range of industries. Allegis Group's business units include: Aerotek, a provider of technical, professional and industrial staffing services; TEKsystems, a provider of IT staffing and consulting services; MarketSource, a provider of outsourced sales and marketing solutions; Major, Lindsey & Africa, a legal staffing and search firm; Aston Carter, a consultancy, finance and IT recruitment company; and Allegis Global Solutions, a provider of human capital consulting and workforce management solutions. Headquartered in Hanover, Maryland, Allegis Group has significant presence throughout North America, Europe, and Asia.
For more information, contact: Adam Streets
Email: astreets(at)allegisglobalsolutions(dot)com
Phone +1 410 694 5057