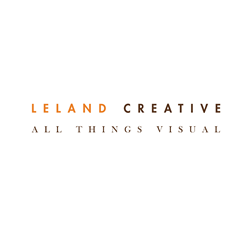 Ten years in the marketing world is a very long time. Even looking back two years ago, things have changed dramatically
Salem, MA (PRWEB) September 16, 2015
Leland Creative, a graphic design and branding firm founded by Brent Leland and located in Salem, Massachusetts, is celebrating its 10th anniversary. When it first opened in 2005, the firm was called Brent Leland Design. As it grew, Leland knew it was larger than just one person – both literally and figuratively – so he changed the name to Leland Creative.
Leland's motivation for opening the firm was simple. "It was always my goal to have my own design firm. I wanted the challenge to work within numerous design disciplines, and to create solutions and results for businesses in a wide range of industries. Before founding Leland Creative, I was an Art Director with Gillette, working on the company's Grooming and Personal Care line of business. Although my position allowed me to work on several of Gillette's leading brands, over time, it became limiting from a creative standpoint. At Leland Creative, I may work with a Fortune 500 company, a start-up bakery and a restaurant… all in the same day! This level of variety provides us with a very stimulating creative environment that is a win-win for me and my team, and for our clients."
Mary Ann McCormick, Former Owner of Lark Fine Foods® still raves about the work Leland did for her, "Leland Creative took us from simple labeled bags to fantastic three sided packages. We loved the designs they created! Every cookie has its own color palette. The designs are as bold as our flavors, which help our cookies to jump off the shelves. This is important in food packaging as we're competing with every other cookie product in the aisle. Food packaging is not easy, but Leland Creative nailed it!"
The team at Leland Creative listens carefully to clients. Here's what Jeremiah O'Connor, Director of Sales & Marketing, Injectronics, had to say on that front, "Leland Creative's listening skills combined with their ability to gather input from a diverse group of committee members and synthesize the input into concrete deliverables was impressive. Our first project with them was implemented on time and under budget. The ongoing complimentary feedback that we receive provides us the overwhelming evidence that we made the right choice!"
The assignments as well as the technologies that drive many of the marketing solutions Leland Creative develops for its clients are changing. Mike Jewell, Sales and Marketing Partner at Leland Creative, is amazed at all of the changes that have taken place since Leland Creative opened. "Ten years in the marketing world is a very long time. Even looking back two years ago, things have changed dramatically. The most notable is the intimate connection marketing now has to technology, and along with it, the ever-present pressure for immediate results."
Jewell brings up four points relating to change and technology that he urges businesses to carefully consider before beginning any marketing program—
1. The changing tools in marketing mean that the initiatives of companies are shifting. For example, if a company hasn't looked at smartphones as a way to engage prospects, introduce a website, answer customer questions, and communicate one-on-one, they're falling behind and quickly becoming irrelevant.
2. Companies have to become a media and education outsource. Marketing has moved from creating punchy little messages (not that we still do not do this since everything is 140 characters) to producing content that moves people over a period of time to make the company their provider of choice. Some of these skills mean we have had to expand into video production, writing, editing of text and video, technical skills, and analytical skills.
3. Companies are spending their marketing dollars differently. The budgetary questions are more nuanced. It's not a matter of buying time and space on someone else's media. Some of the money that once went into traditional media is moving into digital media. Just a year or two ago very few companies had line items for programming Web development or social media monitoring. Today, most do.
4. People are changing. There are three areas that demonstrate how customers and prospects have changed.

People do not see themselves as passive customers.
People's attention spans are shorter.
People do not see themselves as the targets that marketing people have traditionally thought of them as.
To obtain the best results for its clients, Leland Creative has expanded its offerings. They include the following services—
Website strategy, design and development
Program Architecture and integration for Web
Search Engine Optimization (SEO)
Paid Search Marketing
Digital lead generation: planning and placement
Interactive Advertising: banner ads, e-blasts, e-newsletters
Content Writing and Press Releases
Email campaigns: planning, email list segmentation and development
Video development: product demos, testimonials, brand videos, etc.
Marketing strategy: program development and implementation
Tradeshow promotion
Sales support and Lead Generation strategies
Media research and plan development
Media contract negotiation/coordination/placement
Leland has put many of these new services to good use for its clients. Bixby International, a custom thermoplastic sheet extruder and laminator, has reaped the rewards of some of these services. Dan Rocconi, CEO of Bixby International, can't say enough about Leland's work. "First of all, Leland works hard to learn our business. They've become an extension of our marketing department, developing programs that have gotten us a ton of leads, driving people to our website. They've helped us to go after companies in industries we would have never thought of, and they've created programs for some of our existing customers that pay great dividends. Thanks to Leland, we now have tools to help our sales efforts, leaving strong impressions with both customers and prospects alike."
Jewell sees more changes in the future, "Technology will continue to transform marketing and its impact will force marketers to become more strategic with their campaigns. Messaging and experience will play a bigger role because technology will allow marketers to continue to tailor brands to specific niche prospect groups, creating experiences to the individual with less of broad stroke over an entire demographic."
How will Leland Creative evolve? Leland puts it this way, "Like we say, we are ALL THINGS VISUAL…and we mean it. Whatever challenges present themselves, we will seek out and learn the latest technologies, study new trends and stay on top of whatever means of communication is available to us. It's an undeniable fact: the art and science of visual communication are always evolving, so it's our duty to harness them in order to tell our clients' stories in ways that get them the greatest results."
Leland's clients select them for many sounds reasons, two of which are quality and professionalism. Patrick Dowling, Marketing Director of Margaritas Mexican Restaurants, put it this way, "Over the past seven years, Leland Creative has continued to have a profound impact on our brand and message, providing us with quality creative solutions. They continue to amaze me with their creative talents and professionalism. I highly recommend Leland Creative. They are a joy to work with."
ABOUT LELAND CREATIVE
Leland Creative is a graphic design & marketing firm that prides itself with creating concepts that are driven, emotionally stimulating and bridge the client to end-user relationship. As a prospective partner they would be able to support a companies initiatives by giving the customer the best experience possible and giving the company the "visual voice" it needs.
Leland Creative is ALL THINGS VISUAL and over the years their clients have come to rely on them to keep their company images FRESH, RELEVANT and FUN.