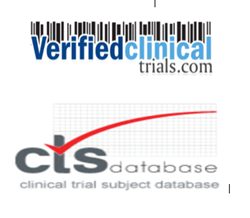 By joining forces we present a solution that maximizes detection of attempted duplicate enrollment and protocol violations
Garden City, New York (PRWEB) September 21, 2015
Verified Clinical Trials (VCT) LLC and CTSdatabase LLC, the two leading research subject database registries in North America, announce their newly formed association and collaboration. Verified Clinical Trials and CTSdatabase are currently the largest companies seeking to prevent duplicate enrollment in clinical research trials. They check for duplicate enrollment across pharmaceutical companies, not just within a single study or pharmaceutical sponsor.
The two companies have developed a common Research Subject Authorization Form that covers use of both systems. This combined authorization form has been reviewed and approved by several IRBs. Leveraging their powerful technology and proprietary software, Verified Clinical Trials and CTSdatabase may be utilized in tandem by CROs and pharmaceutical clinical trial sponsors for future trials. This new collaboration seeks to provide trial investigators and pharmaceutical sponsors with even more information about their research subjects during the screening process to ultimately improve the safety and data quality of clinical trials. The collaboration of previously parallel registries, provides an enhanced and synergistic system to detect and counter duplicate enrollment in clinical trials. Verified Clinical Trials and CTSdatabase will now market their enhanced products with a combined marketing approach to pharmaceutical sponsors and CROs.
The Presidents of the two companies bring over 40 years of clinical trial experience to the industry as well as their well-established solutions to prevent duplicate enrollment and protocol violations in clinical trials. Together, the registries have excellent regional penetration and cover all phases of clinical trial research as well as most therapeutic indications. The combined offering affords the best chance of preventing duplicate enrollment in clinical trials to date. CTS Database and Verified Clinical Trials will begin offering this new service immediately.
"The two entities complement each other very nicely," stated Mitchell Efros M.D., the President & CEO of Verified Clinical Trials. Dr. Efros added, "By joining forces we present a solution that maximizes detection of attempted duplicate enrollment and protocol violations. My hope is that the combined offering will continue to raise awareness and utilization across the clinical trials industry."
Kerri Weingard, ANP COO of Verified Clinical Trials, cited, "We are delighted to work with CTSdatabase. Our combined strength in CNS coupled with the vast experience in phase 1 healthy volunteer trials and other later phase clinical trials provide a database network never seen before in the research industry. We are thrilled to strengthen the data source and number of de-identified records we can now provide to our sponsors."
"Collaborating with the other major subject registry is the best way for both Verified and CTSdatabase to provide our clients with the absolute best chance to pick up duplicate and professional subjects. Mitchell and Kerri share our passion for serving our customers and helping to weed out inappropriate subjects who may have a devastating impact on the success of studies. If clinical trials fail because duplicate and professional subjects are not detected, subjects may be unnecessarily exposed to investigational products and patients and pharmaceutical companies may not get the opportunity to have new medications come to market. For us, having the highest quality subject registry is a public health mandate, not just a business," says Thomas Shiovitz, M.D., the President of CTSdatabase.
About CTS Database: CTSdatabase is a privately-owned company which provides clinical trial investigators and pharmaceutical companies with critical information on past (and concurrent) research participation by potential subjects. HIPAA-compliant and secure, the web-based system provides an immediate printout detailing when, where and for what indications a subject has previously participated in clinical trials, increasing the chances for successful study outcomes.
About Verified Clinical Trials:
Verified Clinical Trials is a forward thinking company developed by experts active in the clinical research community to proactively improve research subject safety and data quality in clinical research trials. Verified Clinical Trials halts dual enrollment in clinical trials and prevents several key protocol violations by providing instant information regarding past enrollment status, prior study exposure and prior compound exposure. This may be critical to a clinical trials success. The Verified Clinical Trials clinical research database registry is HIPAA- compliant and secure and is designed specifically to enhance the quality of both early and late phase trials and has the scalability to reach all sites nationally as well as on a global level.