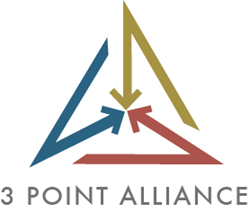 Clifton, NJ (PRWEB) September 16, 2015
3 Point Alliance, a leading provider of remittance processing solutions and services, has announced the company is growing revenues from major new customers in consumer finance, health care and utility sectors for year-to-date 2015.
Demonstrating strong demand from corporates seeking comprehensive remittance solutions, 3 Point Alliance will provide lockbox services, imaging, exception item processing and more combined with strategic consulting services around regulatory compliance and cyber-security.
"Corporate billers are seeking processors who can provide a wide range of remittance processing solutions in a way that not only lowers cost-per-item and can leverage economies of scale but also maintains a high level of quality and automating key functions like exception item processing," said Norman Grunberg, 3 Point Alliance co-founder and president.
Richard Daidone, co-founder and president of 3 Point Alliance, adds, "Billers – whether low- to mid-or high-volume -- want to partner with companies like 3 Point Alliance because of our commitment to offering our customer a full complement of remittance processing services and solutions especially in light of players in the industry who are consolidating and might be challenged by foreign ownership; and, maintaining continuity, pricing, and quality."
This year 3 Point Alliance has expanded its' sales team, will continue to organically grow revenues, and is looking at strategic acquisitions.
"Part of our push to expand sales with mortgage, non-profits, and health care customers, for example, is to demonstrate that 3 Point provides more than a commodity approach to remittance processing bringing deep expertise around critical issues such as cyber-security and regulatory compliance to every implementation," said 3 Point Alliance's national sales director, Gary Smith.
About 3 Point Alliance
3 Point Alliance, Inc. is a leading provider of vertically integrated remittance processing solutions and services. Our four companies – 3 Point Payment Processing, Qwinstar Corporation, Equipment Leasing Organization and Business Continuity Services – together create innovative, efficient and cost-effective accounts receivables payments solutions for our clients. 3 Point's wholesale and retail remittance processing centers enable flexible, scalable remittance payments solutions across many industries. In addition to the Clifton, NJ corporate offices, 3 Point has processing centers in Philadelphia, PA; Seattle, WA; Saint Paul, MN; and, Chicago, IL. To learn more, visit: http://www.3ptalliance.com.