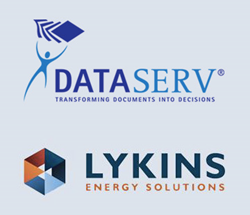 DataServ's solution will help us eliminate paper and improve visibility and accessibility in our AP process.
St. Louis, MO (PRWEB) September 15, 2015
DataServ, a global Software as a Service (SaaS) provider of document and process automation solutions, has been selected by Milford, Ohio-based Lykins Energy Solutions for accounts payable (AP) automation. In business since 1948, Lykins Energy Solutions is a renowned oil company that serves customers in Ohio, Kentucky, Indiana and West Virginia, as well as throughout the Midwest, the Southeast United States, and Louisiana.
Lykins Energy Solutions is using DataServ's complete Purchase to Pay (P2P) solution, which includes digital mailroom services, with optical character recognition (OCR) and automated workflow for non-purchase order (PO) invoices, as well as AutoVouch™ for touchless processing of invoices generated through a PO. DataServ's P2P solution will integrate with the Ascend back office jobber software that Lykins Energy Solutions and many companies in the petroleum industry utilize.
DataServ's relationship with Lykins Energy Solutions marks the first alliance fostered via DataServ's partnership with FireStream WorldWide, a St. Louis-based software and technology company that works with elite fuel wholesalers and c-store chains to streamline business processes and improve efficiency.
"DataServ worked closely with FireStream to create a seamless integration with the Ascend software solution," says Bob Manning, CEO of Lykins Energy Solutions. "That partnership allowed for fewer dedicated resources to accomplish what would have taken far more time and effort from our internal team to support. DataServ's solution will help us eliminate paper and improve visibility and accessibility in our AP process."
Adds DataServ Founder/CEO Jeff Haller: "We are excited to see the first tangible result of our relationship with FireStream WorldWide by applying our robust P2P solution to Lykins Energy Solutions. We are confident that we will provide this highly respected company with a streamlined, paperless AP process."
About DataServ
DataServ is a global SaaS provider of document and process workflow automation solutions for the financial operations and human resources functions. A cloud computing pioneer, they developed the first commercially viable SaaS enterprise content management (ECM) in the world. Serving organizations worldwide since 1994, DataServ streamlines and lowers costs within Accounts Payable via their Purchase to Pay (P2P) solution set (including Expense Report Automation and Purchase Order Requisition Automation), Accounts Receivable with Quote to Cash (Q2C), and Human Resources through Hire to Retire (H2R) by capturing documents and data and automating business processes.