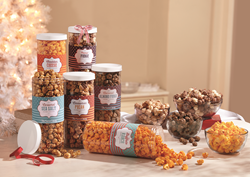 Keeping a well-stocked fridge and pantry with a variety of back to school snacks helps kids stay focused on learning and not on growling stomachs.
Monroe, Wisconsin (PRWEB) September 13, 2015
Back to school is an exciting time for parents and kids. Along with the excitement can be a bit of nerves, so help to ease the transition by stocking up on a variety of tasty foods to make creative school lunches and after school nibbles that kids will love.
To keep kids interested in eating well, the snack experts at The Swiss Colony say foods offered should be enjoyable and fun. Kids will appreciate a wide range of food and snack choices found in their lunch box or after school snack plate.
Everyone craves salty or sweet snacks on a regular basis. Keep that in mind when composing a list of snacks and fill-ins for school lunches. New to the Swiss Colony snack line up are fun Popcorn Tubes available in six flavors and hand-crafted in Wisconsin. Choose from Cheddar Cheese, Buffalo Ranch, Sea Salt Caramel, Cinnamon Pecan, Coconut Fudge, and Peanut Fudge.
Another new offering to satisfy sweet and salty cravings is the tasty Tropical Mix. Measure out a snack size serving from this bright red tin featuring roasted almonds, cashews and macadamia nuts joined by dried pineapple and cranberries to create handfuls of goodness.
Consider stocking up on a variety pack of meats and cheeses found in the 18 Savory Favorites. It's hard to beat this lineup of Original BEEF LOG®, Summer, Garlic and Caraway Sausages; Smoked Bacon, Swiss & Bacon and Mellow Cheddar Incredible Spreadables®; mustard, breadsticks, mixed nuts and more.
Kids go crazy for sweet treats. The good news is, eaten in moderation, sweet snacks can be added to a well-rounded diet.
Portion controlled sweet snacks are becoming more prevalent and are easy to pop into a school lunch. Super small desserts, like the new Jelly Belly Petits Fours (or mini cakes) offer Very Cherry and Green Apple Jelly Belly jelly beans perched atop bite-sized layer cakes with vanilla creme fillings to complement their signature flavors. Petits Fours are fun for special occasions or to perk up kids who may be having a tough day.
"Keeping a well-stocked fridge and pantry with a variety of snacks helps during and after school when kids need to stay focused on learning and not on growling stomachs," says Becky Henke, VP of the Food Division at The Swiss Colony.
The entire Fall 2015 line up is available at The Swiss Colony, along with the company's traditional and novelty offerings including baked goods, chocolates, candies, meats and cheeses. Shop online at http://www.swisscolony.com.
About The Swiss Colony
The Swiss Colony is a family-owned Wisconsin company that has been creating food gifts for nearly 90 years. The company insists on the highest quality ingredients for a large selection of festively packaged gifts for every occasion. Exclusive recipes developed by European Master Bakers and hand-decorated novelties like no other are just two of the reasons customers include The Swiss Colony as part of their holiday traditions year after year.