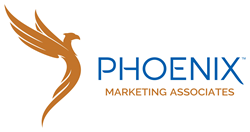 2015 has been a banner year for PMA as we just keep adding quality clients into the fold, we appreciate their confidence and as always, look forward to exceeding expectations
Phoenix, AZ (PRWEB) September 11, 2015
Phoenix Marketing Associates (PMA) in Scottsdale signed four new clients in the last sixty days: Dignity Health, JDRF, Shona Salon & Spa and author Brian Ronalds.
PMA will be assisting Dignity Health in conjunction with Arizona Ballroom Champions to provide PR services and promote the upcoming Dancing for Stroke Gala.
PMA will also provide PR, website improvements, branding and a social media and online marketing campaign for the newly established, Shona Salon and Spa in Scottsdale.
JDRF Desert Southwest Chapter has selected PMA as their ongoing PR partner promoting all yearly events including their Walk and annual Gala.
Most recently PMA was engaged by self-proclaimed relationship author, Brian Ronalds to promote his new book and kick off a publicity tour.
"2015 has been a banner year for PMA as we just keep adding quality clients into the fold, we appreciate their confidence and as always, look forward to exceeding expectations," said Phoenix Marketing Associates President Jason Jantzen.
About Phoenix Marketing Associates:
Phoenix Marketing Associates works with small to medium sized businesses across North America to provide targeted and results driven marketing solutions on a contract basis within any budget. Their consultative approach allows for a thorough needs analysis, which translates into an effective marketing and PR strategy that saves their clients time and money while providing maximum exposure.
By assigning a team of qualified professionals to each individual situation and utilizing the most current communication and online demand generation technologies, Phoenix Marketing Associates enables businesses to achieve Fortune 500 results on an entrepreneurial budget. For additional information, please visit http://www.PhoenixMarketingAssociates.com
Media contact:
Christine Holtz
Phoenix Marketing Associates
602-282-0202
XXX