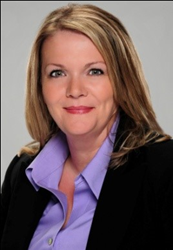 Stratus' dedication to providing technology that empowers people aligns my personal and professional passions. I couldn't be more excited to be a part of the team.
Tampa Bay, FL (PRWEB) September 14, 2015
Stratus Video Interpreting has added a new member to its executive team. Maureen Huber joins Stratus as CFO with 20 years of experience in executive leadership focused on finance and operational excellence. "Maureen is talented and has a track record which speaks for itself," says Stratus Video president David Fetterolf. "Her international experience serving Fortune 500 customers and governmental agencies parlays well with Stratus' goals and applications."
Maureen Huber has risen to the top of multiple companies in the tech industry and holds a strong record of fostering organic and inorganic growth. She has also been honored by several organizations for her leadership and community service. In 2011, Maureen was recognized by Crain's Business as the CFO of the year. Further, she was an honoree of the 2012 Vista Maria's Celebrating Women Award. Maureen is also a frequent guest speaker at various business conferences sharing her passion for technology and education (STEM) programs.
Serving in the community is also important to Maureen. She currently serves as an advisor to the board of directors with Vista Maria whose vision is to deliver innovative care, support, treatment and education to vulnerable youth. Previously, she has also served as treasurer of Michigan State University's Executive Alumni Association Board of Directors and participated with various volunteer organizations.
"From my years of international business travel, I have experienced the need for effective interpretation. The ability to understand and be understood lowers cultural and language barriers in real time, thereby enabling innovation and unprecedented access to knowledge. Stratus' dedication to providing technology that empowers people aligns my personal and professional passions. I couldn't be more excited to be a part of the team."
About Stratus Video Interpreting:
Stratus Video Interpreting provides on-demand interpreter services by using technology to connect clients with interpreters in over 175 spoken and signed languages in less than 30 seconds. Stratus' cloud-based video solution delivers an array of unique features to virtually any Internet-enabled PC, Mac, smartphone or tablet. Stratus clients use the technology to connect with their own staff interpreters, as well as with Stratus interpreters, who have years of healthcare and courtroom experience and hold multiple certifications. With Stratus, state-of-the-art video remote interpreting is made available with virtually no capital investment. Stratus averages 65,000 video calls a day, up from 40,000 in mid-2013. Stratus Video is the sister company of The Z® (CSDVRS, LLC, dba ZVRS), which was established in 2006 and developed by and for deaf and hard-of-hearing individuals, setting the industry standard as the nation's premier Video Relay Service Provider and the first VRS Provider to receive a 5-Year certification from the FCC. In 2014, Stratus was recognized as one of the fastest-growing privately held companies, ranking #3,827 on Inc. magazine's Inc. 5000 list. For more information, visit http://www.stratusvideo.com.