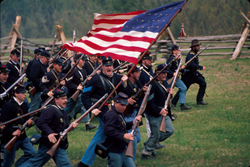 Our local area is steeped in history that families and couples alike enjoy exploring," said Cindy Hedges, Area General Manager for the Holiday Inn Express Manassas and the adjacent Fairfield Inn & Suites Manassas.
Fairfax, VA (PRWEB) September 14, 2015
Renewed interest in Civil War history has shown an increase of tourism to locations surrounding historic sites outside Washington, DC such as Manassas, Virginia and Frederick, Maryland. Hotels that have seen this uptick in Civil War tourism include four properties managed by Crescent Hotels & Resorts, an operator of over 100 hotels in North America, including 16 hotels in the Washington DC area.
"We have found that vacationers are staying in these history-rich areas of Manassas and Frederick for one to three nights on their way to Washington, DC," said Tim Bowes, Vice President of Sales for Crescent Hotels & Resorts. "They really want to take in the vibe of the regions and see more than a day trip from DC would allow. Many of our guests are those that stopped in for a day trip on an earlier excursion only to put it on the calendar for a longer stay on their next adventure." Manassas and Frederick offer more than Civil War history, they also offer natural beauty, soft adventure and a quaint small town feel to compliment a trip to a major city such as the nation's capital. Visitors can experience the Blue Ridge Mountains, hike on the Appalachian Trail, take in whitewater rafting and visit wineries, among countless other activities.
"With the start of fall and kids back in school, these areas are the ideal locations for weekend trips," added Bowes. For Washingtonians who want to get away, these make for affordable "staycations" with little travel time to see areas that many have not been to in a long time, if ever.
"Our local area is steeped in history that families and couples alike enjoy exploring," said Cindy Hedges, Area General Manager for the Holiday Inn Express Manassas and the adjacent Fairfield Inn & Suites Manassas. The hotels are close to the area's two major battlefields including the Manassas Battlefield famously considered to be the birthplace of the Civil War with the Battle of Bull Run.
Visitors can kayak, paddleboard or canoe along the Occoquan and Potomac Rivers, shop at Virginia's largest outlet mall (Potomac Mills) and visit downtown historic areas of Manassas and Occoquan. For those looking for modern entertainment there are laser tag options and coming soon, the Autobahn Indoor Speedway -- all before retreating to a recently renovated room at the nearby Fairfield Inn & Suites or a stay at the Holiday Inn Express. Both offer indoor pools and complimentary hot breakfasts as well as complimentary wi-fi to stay current with the twenty first century.
While Manassas is the perfect stop for those traveling from south or west of the nation's capital, those from the north can include a stopover in Frederick, Maryland on route to Washington, DC. "We have seen a tremendous amount of Civil War tourism," said Lloyd Williams, Area General Manager of the Holiday Inn & Conference Center Frederick and the nearby Hampton Inn & Suites Fort Detrick.
Lloyd credits the popularity of the region to its scenic beauty. "At the foot of the Appalachian Mountains, visitors can enjoy breathtaking views of mountains or lush green pastures as they travel to the numerous nearby attractions," said Lloyd. "Even those that don't drink enjoy the tours of our wineries. In this region, around every turn in a postcard view." Frederick offers many attractions for visitors with varying interests with museums and parks pertaining to Civil War, railroads, children's museums, national parks and even a creamery.
After a long day of touring, many visitors enjoy exploring the nightlife of Frederick or a leisurely dinner at one of the many restaurants that line the cobblestone streets of historic downtown Frederick. For those who prefer nationally known chains, the region's largest shopping area, Francis Scott Key Mall, is adjacent to the Holiday Inn.
For those that want to unplug and connect with history, nature and their families to create memories, the eighteen hundreds is closer than one would think. Even if it's just for a weekend.
ABOUT STAY IN WASHINGTON DC
Stay in Washington DC includes Crescent Hotels & Resorts' hotels located in and around Washington, DC. These properties are internationally recognized brands including, Hilton, Hyatt, Sheraton, Westin, Wingate by Wyndham, Radisson, Cambria Hotels & Suites and Best Western. Most hotels are in walking distance to a Metrorail or offer complimentary shuttle service that links guests to the city's world renowned Metrorail network. All locations offer various dining, shopping and entertainment options just minutes away via walking, complimentary shuttle or Metrorail. Several locations offer award winning restaurants right inside the hotels. For more information, visit http://www.stayinwashingtondc.com, like on http://www.facebook.com/StayInWashDC, follow on http://www.twitter.com/stayinwashdc, follow on http://www.instagram.com/stayinwashdc, subscribe on YouTube and connect on Google+.
ABOUT CRESCENT HOTELS & RESORTS
Crescent Hotels & Resorts is a nationally recognized, top-5 operator of hotels and resorts. Crescent currently operates over 100 hotels and resorts in 36 states in the US and 4 provinces in Canada. Crescent is one of the few elite management companies approved to operate upper-upscale and luxury hotels under the brand families of Marriott, Hilton, Starwood, Hyatt and IHG. Crescent also operates a collection of legendary independent hotels and resorts. Crescent's clients are made up of hotel REITs, private equity firms and major developers. For more information, please visit http://www.chrco.com.
rw Stayinwashingtondc.com #stayinwashdc