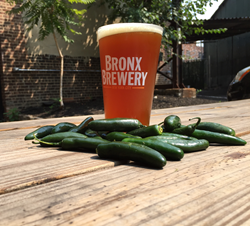 New York, New York (PRWEB) September 11, 2015
The Bronx Brewery, New York's leading producer of pale ales, has released a limited edition beer to the greater NYC market. Available on draft in major accounts across NYC and select New Jersey and Westchester locations, Bronx El Serrano Red IPA is made with Serrano Peppers grown locally in 23 different Bronx community gardens that comprise The Bronx Greenmarket Hot Sauce.
"We're excited to be working with the makers of The Bronx Hot Sauce to launch the first of our B-Side Series," says Patrick Libonate, VP of Marketing. "It's great to collaborate with another neighborhood business that shares our mission to produce high quality, local products we can all enjoy while giving back to the community."
"El Serrano Red IPA is the latest in great flavor coming from The Bronx," says John A. Crotty, co-founder founder of Small Axe Peppers, producer of The Bronx Greenmarket Hot Sauce. "We're very thankful that The Bronx Brewery chose our locally grown peppers to use in this limited edition release. Food and drink lovers in the Tri-state area continue to respond positively to various tastes of the Bronx."
The 9-percent ABV Red IPA recipe was created by Head Brewer Damian Brown. "The serrano peppers and habanero chiles give it a subtle pepper aroma and a soft, lingering touch of spicy heat to balance the sweet malt flavors and hop bitterness," he says.
El Serrano Red IPA is the first installment of The Bronx Brewery's "B-Side" series, a lineup of specialty beers to be offered periodically each year. A nod to The Bronx's deep and influential music history and hip-hop roots, "B-Side" beers mirror those hard-to-find tracks on the flipside of the record. The series complements The Bronx Brewery's year round and seasonal line up as rare brews that break from the producer's traditional pale ales to create special and unique blends.
This Sunday (9/13), The Bronx Brewery will be hosting the first sample of El Serrano Red IPA at their Port Morris Tasting Room. In addition to the release, their other award-winning beers will be on tap accompanied by some on site local food vendors. "We invite everyone to come Sunday and sample some of our wonderful tastes created right here in The Bronx," says Patrick Libonate, VP of Marketing.
"This partnership between the teams at Bronx Hot Sauce and the Bronx Brewery represents some of the best our borough has to offer," says Bronx Borough President Ruben Diaz Jr. "These two local businesses have teamed up to create another great product that represents our borough in a positive light, and I urge visitors from all over the region to check out the great flavors The Bronx has to offer."
El Serrano Red IPA will be available for a limited time this fall in prime accounts including The Bronx Ale House, Ulysses, Barcade, The Bronx Beer Hall, Bling Tiger, The Ginger Man, Tribeca Tap House and more. Draft prices vary by account. For more information please visit http://www.thebronxbrewery.com or contact Maggie Doherty (mdoherty(at)colangelopr(dot)com) to arrange product sampling or interview requests.
ABOUT BRONX BREWERY (http://www.thebronxbrewery.com)
Proudly established in The Bronx and steeped in the American craft tradition, The Bronx Brewery's philosophy is to "do one thing and do it right." Founded in 2011 by Chris Gallant and Damian Brown, the brewery has a maniacal love for a single style of beer: pale ales. The beers are complex, not complicated. Considered, not cautious. Reverent, not rigid. The uniquely diverse range of beers explores the limits of what a pale ale can be, creating fresh, bold beers inspired by a borough known for its own uniquely bold character. Stop by their tasting room in the exciting Port Morris neighborhood for a pint.
ABOUT THE BRONX GREENMARKET HOT SAUCE (http://www.bronxhotsauce.com)
The Bronx Greenmarket Hot Sauce is made using locally-sourced Serrano peppers grown in Bronx community gardens – with a recipe created by chef King Phojanakong of Kuma Inn and Jimmie's 43. Small Axe donates serrano pepper seedlings to The Bronx community gardens through GrowNYC, and buys the peppers back from the community gardeners at a premium for use in their hot sauce. The company's mission is built on an efficient, closed-loop model to support The Bronx community gardens and the surrounding communities where urban farmers are restoring, beautifying and helping to feed their neighborhoods with locally-grown produce. The model ensures a high quality, local product for customers, while the community gardens receive direct financial support from the purchase of the peppers.