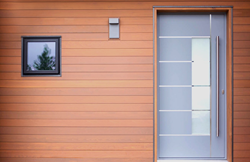 We are constantly innovating to exceed the demands of modern architecture
Missoula, Montana (PRWEB) September 15, 2015
Glo European Windows is pleased to introduce the latest edition to their product line the D1 Decorative Door.
"Our clients have consistently asked us for a unique, modern entry door" says Vice President, Mark Wells. "Our new D1 Decorative door is just that, offering a myriad of custom designs, colors and accessories."
D1 series by Glo are manufactured using powder-coated, thermally broken aluminum frames and up to four panes of glass. Each D1 Decorative door is custom crafted to meet a variety of functional and aesthetic requirements, while also delivering high performance. Frame and insulation options are available with and without glazing for thermal performance between R7-R15.
There are 48 standard door panels all available with custom configurations, over 200 color options and side light panels.
The D1 decorative door handle options include various sizes ranging from 16 inches up to 63 inches. Options are available for recessed or elevated handles in a variety of finishes.
"Our clients are very pleased with our limitless design options for our decorative doors." Says CEO Russ Hellem. "We are constantly innovating to exceed the demands of modern architecture."
About Glo European Windows
Founded in Missoula, MT in January 2015, Glo windows currently delivers custom made windows and doors throughout the United States and has active projects in Illinois, Montana, Oregon, Washington and Idaho. Glo European Windows is based in Missoula, MT. For more information about Glo windows please visit the website at http://www.glowindows.com or call 406-721-2741.