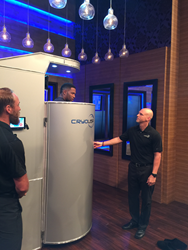 Kelly Ripa and Michael Strahan get whole body cryotherapy with CryoUSA!
Dallas, TX (PRWEB) September 11, 2015
CryoUSA℠, the world's leader in providing cryotherapy and the Official Cryotherapy Provider of the Dallas Mavericks™, appeared on ABC's LIVE with Kelly & Michael TV show on September 9th.
"Having the opportunity to share the powerful benefits of whole body cryotherapy with millions of viewers was phenomenal," says Mark Murdock, Managing Partner at CryoUSA. "While celebrities and sports stars like Kelly and Michael have helped bring attention to cryotherapy, the vast majority of those taking advantage of it are actually soccer moms and weekend athletes. Our focus at CryoUSA is to bring the benefits of cryotherapy to as many people as possible, and we're very grateful to Ed Connolly Jr, Kelly Ripa, Michael Strahan, and Michael Gelman at ABC for helping us do just that."
Millions of viewers watched as Kelly and Michael entered CryoUSA's whole body cryotherapy chamber while Mark Murdock explained the amazing benefits. After the show, Michael Gelman, Executive Producer, and other staff at LIVE with Kelly & Michael also enjoyed a cryotherapy session. Watch it now!
"We were very happy to welcome CryoUSA to LIVE with Kelly & Michael," commented Ed Connolly Jr., Producer. "Cryotherapy is becoming all the rage in fitness and recovery, and we couldn't have been happier with how the segment turned out. The audience and viewers got to be both entertained and educated at the same time as Mark walked Kelly and Michael through the process of being in a chamber cooled to -250 degrees below zero. Bringing in CryoUSA was a last-minute scheduling decision, and that they were able to bring a cryotherapy chamber and set it up in our studios in 36 hours - and be ready to appear on-air - was simply amazing.
CryoUSA was formed to provide active recovery and unmatched customer experience to anyone seeking to improve quality of life and enhance an active lifestyle. This is accomplished by continual and diligent research, testing, education, and discovery of the most innovative recovery technologies in the world. Offering revolutionary, whole body cryotherapy along with other leading recovery modalities, CryoUSA sets the industry standards for safety, equipment, and reliability for over a decade. And while professional sports teams, the world's most elite athletes, and celebrities have trusted CryoUSA as their provider in recovery, individuals across the country can benefit through the 100+ recovery centers CryoUSA has helped launch.