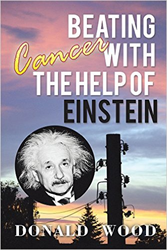 After researching the centenarians of the world, I have come to the conclusion that diseases can be stopped in their tracks
Sydney, Australia (PRWEB) September 14, 2015
Donald Wood had it all. He was a world champion yachter, a successful business owner, and the proud patriarch of a loving family. And then his wife got sick.
Donald's wife, Jean, was diagnosed with terminal cancer and given a life expectancy of only three months. Together, the couple was determined to fight. They searched all over the world for alternative methods of healing and the secrets to long, healthy living. Jean's treatment consisted of nothing but the tactics she and Donald discovered during their research. Ultimately, Jean outlived her doctors' original estimation by over five years in near perfect health.
In "Beating Cancer with the Help of Einstein," Donald Wood has compiled the knowledge he gathered from all corners of the world. From the principles of physics to prana energy and everywhere in between, Wood leaves no stone unturned when it comes to finding a way to lead a long, healthy life.
"After researching the centenarians of the world, I have come to the conclusion that diseases can be stopped in their tracks," Wood said.
For more information, visit http://www.beatingcancerwitheinstein.com.
Beating Cancer with the Help of Einstein
By Donald Wood
ISBN: 978-1-50350-155-3
Available in softcover, hardcover, e-book
Available on Amazon, Barnes & Noble and Xlibris
About the author
Donald Wood lives in Sydney, Australia, where he owns and operates his family-run business. He has four children and five grandchildren.
# # #
**For Immediate Release**
For review copies or interview requests, contact:
Drew Tharp
317.602.7137
dtharp(at)bohlsengroup(dot)com