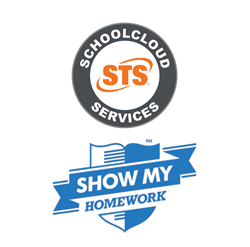 In a recent survey of teachers 91% agreed that Show My Homework (SMHW) has increased student accountability, and 93% said that the quality of the homework being handed in has improved.
Los Angeles, CA (PRWEB) September 15, 2015
School Tech Supply (STS), a national provider of education technology solutions, has partnered with ShowMyHomework.com of the U.K. to give U.S. schools a new way to get homework assignments done.
The platform, already adopted in the U.K. by 2.5 million users, has shown results. In a recent survey of teachers, 91% agreed that Show My Homework (SMHW) has increased student accountability, and 93% said that the quality of the homework being handed in has improved.
The cloud-based convergence features of the platform have had significant impact on improving student and parental participation and productivity, plus school administration and teacher efficiency.
Teachers have commented that this tool means: "No more excuses!" Students can no longer say that they forgot to do their assignments, or copied down the wrong due date. Teachers no longer get calls from irate parents who complain of feeling left in the dark, because they don't know what they're children are learning.
School Tech Supply (STS), based in California, has started to install the SMHW education management platform at an introductory subscription rate that is affordable on any school budget.
School administrators or technology managers should contact STS for a Live Guided Demo or call 800-390-SMHW (7649) and ask for a Show My Homework representative.
Highlights and features:

School administrators and technology managers are able to manage the platform on their own school network.
Teachers are enabled to set-up homework assignments and due dates in a matter of minutes. They also get tools for creating quizzes, spelling or number tests, or for enhancing the content they want to share with students, parents and other teachers.
Students know exactly what to expect and when, and can reach out to teachers and parents if they need assistance.
Keeps parents in the loop. Schools can add a link to the homework calendar on their school website, and notify parents about deadlines.
Administrators and teachers have access to management data through tools that measure quality, frequency, and consistency. Reports help them identify potential learning gaps by class, subject or grade (Excel or PDF).
Participants have anytime access using most Internet-connected devices and browsers, including smartphones and tablets, with a downloadable app readily available from Apple and Google Play.
School Tech Supply co-founder and CEO, Marc Netka, said, "We're thrilled to add Show My Homework to our lineup of innovative education solutions. It fits in perfectly with what we are trying to accomplish on behalf of our school clients. We have two goals.
"First STS wants to make a contribution in enabling educators to deliver the quality of education that is needed in an age where learning and technology are inseparable. Because Show My Homework has proven itself in the U.K. we believe that in the U.S. it will go a long way to help schools close the digital divide and connect cloud-enabled classrooms with out-of-class learning.
"In addition, we work within the budget constraints that most schools are under. That's why we've created a host of discounting, rental and leasing plans that are designed to support the needs of school districts, public, charter and private school educators as they seek to provide the most value for less money. For Show My Homework, we've created a special flagship pricing plan to allow schools and school districts to subscribe to Show My Homework and start realizing the benefits of a managed homework platform today.
"Now is the best time for schools to contact our team about Show My Homework and experience this revolutionary solution."
About School Tech Supply (STS)
Named one of Inc. Magazine's 5000 fastest-growing privately-held companies for four years in a row 2012- 2015, STS is headquartered in Southern California, with distribution facilities strategically located throughout the U.S. The STS lineup of innovative products and services feature:

Second-Life Hardware – top brand recertified computing devices backed by the STS Value Protection Plan and the industry's only lifetime parts warranty
Interactive classroom technology – flat-panels, whiteboards, document cameras, and much more
SchoolCloud Solutions – a range of cloud-based solutions, including IT and network management and maintenance, software applications, hosted VOIP communications, and a managed homework platform
White Glove Services - including reconditioning, repair, upgrades, conversion (to Chromium OS), and asset tagging.
About Show My Homework
Show My Homework (SMHW) started its life in a UK classroom, when Assistant Principal, Naimish Gohil recognized the need for a solution to the age-old problem of homework. Three years later, SMHW is the World's No. 1, award-winning software solution for homework with over 2 million users and a growing customer base of schools around the world. Show My Homework makes it easy for classroom teachers to set homework for students to turn in on any device. At the same time, parents can log in and see the status of homework. By keeping teachers, students and parents connected, schools can manage the homework process and measure efficacy. For teachers, it saves a huge amount of time. For students, they can engage with homework on devices they are already immersed in and for parents, they never have to worry about being in the dark. Show My Homework is proven to make an impact and improve the educational outcomes of children through effective homework.