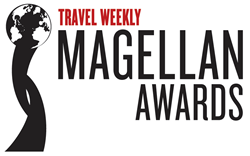 This award speaks not only to the growing destination wedding market, but the acceptance of same-sex weddings.
WAYLAND, MA (PRWEB) September 14, 2015
Leading industry publication Travel Weekly has named GayDestinationWeddings.com a 2015 Gold Magellan Award Winner, honoring the brand for its Travel Agent Innovation among travel agent organization entries.
"We are thrilled to be recognized for our efforts, as we address a unique and rapidly growing segment of the travel market with authority, sensitivity, and expertise," shares Richard Calvert, President and CEO of Celebration Travel Group, the parent company of GayDestintionWeddings.com. "This award speaks not only to the growing destination wedding market, but the acceptance of same-sex wedding. We will continue to uphold the expectations of couples everywhere and provide every couple with an opportunity to express their love freely, all around the world."
The Magellan awards is the premier awards program honoring a broad range of industry segments including Hotels and Resorts, Travel Destinations, Cruise Lines, Online Travel Services, Airlines and Airports, Travel Agents and Agencies, Tour Operators and Car Rental Companies, the Magellan is the award to win if you are in the business of travel.
Gay Destination Weddings was particularly honored for their exclusive promotions and partnerships, their interactive digital magazine "Voyage" and their blog, which addresses the desires of their clients, and all who are invested in the growth and success of gay destination weddings.
"The creativity that travel industry marketers and designers display to inspire travel and enhance the travel experience continues to impress our expert judges and readers," said Arnie Weissmann, editor in chief of Travel Weekly. "This year's winners continue to raise the bar, establishing themselves as not just the most talented and creative people in the travel industry but among the most creative and talented of any industry."
The Magellan Awards are judged and overseen by a one-of-a-kind panel of top travel professionals representing the best names and most accomplished leaders from the industry. In determining winners, entries do not compete with one another, instead they are judged against a standard of excellence based on the long experience of Travel Weekly. To uphold this high standard of excellence, a category may have multiple winners, or may have no winners at all.
For a complete list of silver and gold winners, please visit http://www.travelweeklyawards.com.
About Travel Weekly
Travel Weekly, the national newspaper of the travel industry, is the most influential provider of news, research, opinion and analysis to the North American travel trade marketplace. In addition to a weekly print publication, TravelWeekly.com, updated several times daily, is the most-visited industry website. Travel Weekly is a division of Secaucus, New Jersey-based Northstar Travel Media, the largest travel business-to-business travel publisher in the world.
About Celebration Travel Group
Celebration Travel Group represents a number of award-winning tourism brands with the common goal of creating destination celebrations worldwide. From dream weddings and romantic honeymoons to memorable anniversaries, luxury escapes and all-inclusive vacations, we pair the value of exclusive offers and savings with the convenience of complimentary expert planning services to ensure that each customer's personalized vision becomes a reality.