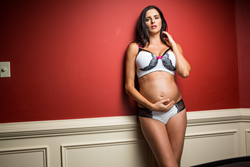 Atlanta, GA (PRWEB) September 15, 2015
You! Lingerie released their sexiest collection to date, the Very Sexy You! Collection. This is not your grandmother's nursing bra. The Very Sexy You! Collection redefines the idea of breastfeeding in style. The collection offers expecting and breastfeeding moms the fun, frilly details that You! Lingerie is known but with some "extra sexy umph."
"It's no secret that beautiful lingerie can make a woman feel great and boost her self confidence. This does not change when she is pregnant or nursing. When I designed this collection, I had one thing in mind, to truly redefine the notion of 'Nursing In Style' for the fashionista mom. I wanted to create beautifully constructed nursing bras that look nothing like traditional nursing bras with design details that will make moms look beautiful, sexy and feel empowered," says Uyo Okebie-Eichelberger, Creative Director & Founder of You! Lingerie.
The Very Sexy You! Collection offers six gorgeous styles in bra size range 32B – 38J with both softcups and flexi-wires options to provide additional support in the larger cups. Every bra features beautiful full molded cups, soft shimmery lace, cage front strap detailing, wide underbust bands and adorned with the brand's signature splash of hot pink color throughout – cup lining, nursing clips, and decorative bows. The matching panties come in sizes S, M, L, XL. This beautiful collection provides function with everyday comfort; fit like no other with a silhouette that is uber sexy, flattering and fashion-forward.
The Very Sexy You! Collection launched this summer and retails $52 - $62 USD. You can purchase at their online store http://www.you-lingerie.com/collections/very-sexy-you or on Amazon and select retailers worldwide. For more information, visit http://www.you-lingerie.com.
About You! Lingerie:
Founded in 2010 by Uyo Okebie-Eichelberger, You! Lingerie is a designer brand of elegant, luxurious and beautifully constructed lingerie, sleepwear and tank tops for pregnant and nursing fashionista moms. After going through her own pregnancy and breastfeeding her daughter with nothing but bland or over priced undergarments to choose from, Uyo decided to make it her mission to help women like herself feel confident and beautiful. Using fabrics, designs and colors that are made with stylish moms in mind, You! Lingerie exudes sensuality, femininity and playfulness without sacrificing quality, support and comfort during this special time. You! Lingerie is headquartered in Atlanta, Georgia and is sold in more than 30 countries, as well as online at You-Lingerie.com.