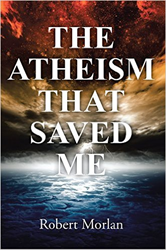 I wanted to show the world what it takes to transform an atheist into a Christian.
CHICAGO, Illinois (PRWEB) September 13, 2015
Robert Morlan went from living on the streets to being an atheist in the army while still in his teens. It is this very decision that saved him, carrying him forward to the day he would become a pastor. He thanks God for his former atheism daily.
The life and lessons of Morlan are contained in his new book, "The Atheism That Saved Me." When his wife lost two children at eight months pregnant, Morlan called out to God to reveal himself if He was indeed real . . . and so God did.
"I wanted to show the world what it takes to transform an atheist into a Christian," said Morlan. "And on the other hand, sometimes Christians have trouble understanding the thought processes that drive someone into atheist beliefs. I want to help bridge that gap and increase mutual understanding."
Morlan's story also shows the impact that growing up in a broken home can have on where one starts in life. It is not always easy to find God when one is more concerned about finding the next meal.
"It's a Christian's duty to do everything they can to create a stable home for their children, which includes acknowledging the destructive results of divorce," said Morlan. "Fragmented families present a challenge that can be difficult to overcome with faith alone."
For more information, visit atheismsavedme.com
The Atheism That Saved Me
By Robert Morlan
ISBN: 978-1-4908-8611-4
Available in softcover, hardcover, e-book
Available on Amazon, Barnes & Noble, Google Play and Westbow Press
About the author
Robert Morlan is founder and lead pastor of Grace Fellowship Church in Mokena, Illinois, where he serves as shepherding pastor. He currently lives with his wife, Jann, of 48 years, and is blessed with a daughter, Susan, and a son, John, who is pastor of First Baptist Church in Evergreen, Colorado. Robert has five grandchildren.
# # #
**FOR IMMEDIATE RELEASE**
For review copies or interview requests, contact:
Craig Cainkar
(317) 602-7137
ccainkar(at)bohlsengroup(dot)com