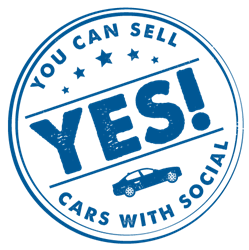 Dominion's Social Ad Management attracts non-declared shoppers in the same way as TV and radio, but with the hyper-targeting and measurable ROI that only Facebook can offer
Norfolk, VA (PRWEB) September 14, 2015
Dominion Dealer Solutions' industry-leading social media and reputation management platform, Prime Response, has launched Social Ad Management (SAM) for automotive retail dealers nationwide. SAM enables dealers to move far beyond the typical "engagement-only strategy" with social media and actually sell cars by driving non-declared shopper traffic to VDPs deep within the dealer's own website.
Dominion's SAM automatically catalogs inventory information from the dealership's website and unites it with Facebook advertising, streamlining operations and measuring social campaign success with concrete statistics.
"Dominion's Social Ad Management attracts non-declared shoppers in the same way as TV and radio, but with the hyper-targeting and measurable ROI that only Facebook can offer," stated Product Manager Michael Sos. "Dealers have accepted the need for social media but have begged for a way to monetize it – to truly sell cars with it. That day has come."
Dominion's SAM utilizes SiteLink™ functionality to automatically curate all VDP and associated metadata from the dealership's website, regardless of website vendor. For every VDP, SAM catalogs the unique VIN image and subheader within the Prime Response content library in the form of potential ad posts. From here, dealers benefit from direct integration with Facebook, as SAM manages the social ads and associated ad spend directly from Dominion's Prime Response platform. Consumer activity is measured through a variety of metrics, including all social-to-site traffic, down to the VDP - the truest indicator of a vehicle shopper's interest on a dealership website.
The addition of SAM to Dominion's Prime Response platform enables dealers to enjoy a "one stop shop" for social media ad management.
###
About Dominion Dealer Solutions
Dominion Dealer Solutions helps car dealers attract, retain, and service customers for life. Dominion's Progressive Retail Solutions include customer relationship (CRM) and dealer management systems (DMS) with actionable intelligence from the Microsoft Dynamics platform. Dominion's Progressive Retail Solutions also feature lead management and equity mining technology, inventory management analytics, social media marketing and reputation management solutions. Dealers nationwide purchase custom lead generation and digital marketing tools from Dominion including: responsive design websites, SEO, SEM, digital advertising, multi-channel marketing, specialized data aggregation, mobile apps and market reports. OEMs and auto dealers nationwide utilize Dominion Dealer Solutions' technologies to solve their marketing challenges. Dominion Dealer Solutions is redefining automotive retail by delivering first-class customer experiences for local car buyers. For more information, visit our website, like us on Facebook, Pinterest or YouTube, or follow us on Twitter.
About Dominion Enterprises
Dominion Enterprises is a leading marketing services and publishing company serving the automotive, recreational and commercial vehicle, real estate, apartment rental, parenting, and travel industries. The company's businesses provide a comprehensive suite of technology-based marketing solutions including Internet advertising, lead generation, customer relationship management, website design and hosting, and data management services. The company has more than 45 market-leading websites reaching more than 20 million unique visitors monthly. More than 77 million For Rent®, and HotelCoupons.com® publications are distributed nationwide each year. Headquartered in Norfolk, Virginia, the company has 3,300 employees in more than 145 offices in the United States, Canada, England, Spain and Italy. For more information, visit DominionEnterprises.com.
Media Contact:
Dominion Dealer Solutions
Peyton Hoffman
Director of Public Relations and Event Management
757.351.7271
Peyton(dot)hoffman(at)drivedominion(dot)com