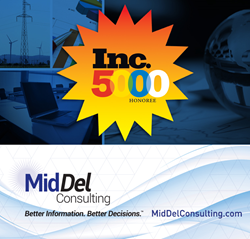 Inc.'s recognition of our commitment and success truly honors our work.
Minneapolis, MN (PRWEB) September 11, 2015
With a three-year growth rate of 93 percent, and inclusion on the list for the fourth consecutive year, it is a notable achievement.
"With the drop in crude pricing, it is a difficult environment in energy," said the president of MidDel, Scott Levin. "Our team has continued to adjust to the changing market dynamics, and is adept at responding to those changes through resourcefulness. It is our ability to remain nimble and offer creative solutions that meet the needs of our clients in a cost effective way that enables us to continue to grow. I am deeply appreciative of our hard working team and our client partners."
Inc. Magazine president and editor in chief, Eric Schurenberg, stated, "The story of this year's Inc. 5000 is the story of great leadership. In an incredibly competitive business landscape, it takes something extraordinary to take your company to the top. You have to remember that the average company on the Inc. 5000 list grew nearly six-fold since 2012. Business owners don't achieve that kind of success by accident."
Businesses featured on the Inc. 5000 list are invited to attend a prestigious three-day conference and awards ceremony with 1,000 of America's most innovative and successful entrepreneurs. The conference is scheduled for Oct. 21- 23, 2015 in Orlando, Fla.
"Over the past 15 months, we have intentionally focused on market areas that we felt were not as dependent on crude pricing as others. That laser focus and our commitment to our company's core values is why MidDel is seen as a nationwide leader in energy consulting. A united and realized vision is essential, and it is what has allowed us to achieve a three-year growth rate above 90 percent for a number of years" said Levin. "Inc.'s recognition of our commitment and success truly honors our work."
About MidDel Consulting
MidDel is an information technology and business consulting company with deep knowledge and experience in the energy industry and beyond. With offices thriving in Minneapolis and Houston, MidDel continues to be a trusted partner of their clients, working within various areas of expertise including ETRM, ISO Markets, ERP, Custom Development, Data Management, Integration, Reporting and Intelligence, and Solution Delivery.
For more information on MidDel Consulting, visit middelconsulting.com, or contact us at info(at)middelconsulting(dot)com or (952) 500-9340.