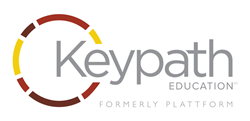 Kansas City, Kan. (PRWEB) September 15, 2015
Keypath Education, formerly known as PlattForm, has been named the California Association of Private Postsecondary Schools (CAPPS) 2015 Allied Member of the Year.
"CAPPS is fortunate to have a strong Allied Member base that contributes in all ways to the Association," said Robert Johnson, CAPPS executive director. "Our Allied Members have led outstanding webinars and workshops, presentations at conferences, and activities such as raising funds for our Memorial Scholarship Foundation.
"Always a hard choice, this year's Allied Member of the Year is Keypath Education. The company's vice president of enrollment partnerships, Jeremy Schoen, has provided outstanding leadership on the CAPPS Allied Member Committee, webinar contributions and assistance on the CAPPS Conference Planning Committee. We salute Jeremy and Keypath Education as the winner of this year's Allied Member of the Year award."
CAPPS represents California's private postsecondary schools and has a membership of more than 200 institutions. Since 1985, the organization has worked with governors, the state Legislature and elected officials in support of higher education institutions' business, policy and educational needs.
"It has been an exceptional experience for Keypath Education to serve as an Allied Member of CAPPS," said Schoen, chair of the CAPPS 2015 Allied Member Committee. "The Allied Members work hard and take risks to evolve our products and services to meet the needs of the CAPPS Members. We are also able to provide valuable insights and information that makes attending the CAPPS annual conference well worth the investment."
The award will be presented during the 31st Annual CAPPS Conference at the Hyatt La Jolla in San Diego from Oct. 7-9. For more information, please contact Hannah Lemon, senior content marketing specialist, at hannah.lemon(at)keypathedu(dot)com or 913.254.6225.
About Keypath Education
Keypath Education partners with higher education institutions worldwide to launch programs, grow enrollment, improve learning and connect education to careers, using a proprietary technology suite. The company has helped more than 4,000 higher education institutions better serve students and graduates, resulting in a strong reputation for its education mission and quality in the United States, Canada, the U.K. and Australia. Since its beginning more than 26 years ago, Keypath Education has been dedicated to changing lives through education. Visit keypathedu.com to learn more.