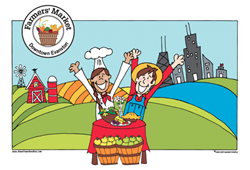 Evanston, IL (PRWEB) September 13, 2015
Lovers of local food and supporters of the Evanston Farmers Market have one more week to purchase tickets to the best luncheon tasting menu in the city. Market customers and community members are cordially invited to celebrate the 40th Anniversary of the Downtown Evanston Farmers Market by participating in the annual Evanston Harvest Celebration, hosted by NWC Food Incubator (formerly Now We're Cookin').
This year's event is a Truck-to-Table lunch taking place at the Market. Participants will enjoy dishes prepared with the freshest produce, presented by Chefs from the following Evanston establishments at their farmer-partner's tent:
Bake 425
Bistro Bordeaux
Boltwood
Bravo Cucina
Campagnola
Cooked
Farmhouse Evanston
Found
Gotta B Crepes
Koi
NorthShore University Health System
Peckish Pig
According to Nell Funk, owner of event host NWC Food Incubator (which created the Harvest Celebration 6 years ago), "supporting access to locally grown food is a cause on the rise, and the enthusiasm with which chefs and producers collaborate each year is always exciting. Without a doubt, the resulting dishes come together to create a uniquely wonderful chef tasting 'menu' which earns rave reviews every year." For people who support eating local and want to ensure the continued success of Evanston's wonderful Farmers Market, this family friendly outdoor celebration is the event to attend!
Event Details -
Date: Saturday, September 19
Location: 1800 Maple Avenue, Evanston, IL (behind Hilton Garden Inn)
Time: 11:00-1:00 pm (last 2 hours of the standard market)
Tickets: $40/person (early-bird) until Sept. 12th. $50 thereafter. (ticket-holders receive
8 food vouchers each). Kids 9 and under free (3 food vouchers - kid friendly
food options available)
Space is limited, so everyone is encouraged to reserve now at the Market or at http://www.brownpapertickets.com/event/2044660
Proceeds from this year's Event will benefit the Market's Link match and educational programming.