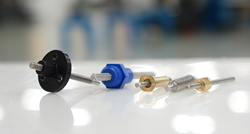 "We use 2mm diameter lead screws from Helix in our robotic surgery equipment and they are the most accurate screws we could find"
Beachwood, Ohio (PRWEB) October 14, 2015
Helix Linear Technologies today unveiled its Ultra Miniature lead screw product line. Helix designed the new range of lead screws for applications that demand micron level positioning and impressively small envelopes. Helix is matching these new screws with their proprietary internally lubricated anti-backlash nut designs to produce a precision lead screw assembly with zero lash and excellent lead accuracy.
The mini lead screws are an exciting addition to Helix's product line because they enable design engineers to build actuation systems that are extremely repeatable and with zero positioning lash. Helix's smallest standard screw size in its Ultra Miniature product line is 1.5mm and the largest screws are 4mm diameter.
"Many of these new screw sizes have been developed for our customers building medical devices and automation systems for drones," says Christopher Nook, CEO of Helix Linear. "We're also the only lead screw manufacturer in the world that produces its own thread rolling tooling so we can manufacture virtually any screw size an engineer needs."
Helix also offer all of its standard services for these lead screws.

PTFE coating
End machining
Testing and validation
Straightening
Sterilization and medical grade packaging
All of these new screw sizes are on the Helix Linear website and engineers can configure a custom screw assembly and download a 2D or 3D model. Visit http://www.helixlinear.com