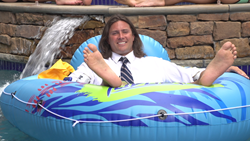 My vision for Tubular was to offer people a fun way to relax and have a little adventure with their friends and family.
Salt Lake City, Utah (PRWEB) September 11, 2015
The Tubular Tube combines amenities never before seen in a single floating inner tube, to make the experience even more enjoyable. The tube features a cooler, convenient cupholders, a bluetooth speaker, and waterproof storage. It's like the Coolest Cooler, except it floats.
At over 6' long and over 5' wide, the one-of-a-kind Tubular Tube can comfortably sit anyone who is lucky enough to get their hands on one. Made from heavy duty PVC, the tube has the durability to withstand a heavy dose of partying—and that's not all. The tube has been built for all seasons, so it can slide down rough terrain and take on snow. But fans of river-tubing will be able to appreciate the tube's mesh bottom, which forms a cool floor to keep its residents from falling through. Oh, and in case you're worried about blowing up such a beast, have no fear: an electric pump is included for free.
The innovators behind Tubular Tube form a highly-experienced team that has brought several products to market. TUBULAR TUBE, recently launched its Kickstarter campaign to raise $25,000 and has already surpassed 25% of its goal. Early reviews have deemed it "a must have" and the "the most high-tech float tube ever." Here's a list of some the features:
-Bluetooth Speaker with up to 6 hours of playback
-Personal Cooler that holds up to 6 drinks
-Electric Pump for fast and easy inflation
-Dual cupholders—one for each hand
-Waterproof storage to keep valuable safe and dry
-Mesh Bottom that adds ventilation and a convenient floor
When asked about how he came up with the idea of Tubular, inventor Sebastian Schleicher said: "There are a lot of people like me whose passion is getting outside, no matter the time of the year. My vision for Tubular was to offer people a fun way to relax and have a little adventure with their friends and family."
Right now, the Tubular Tube is exclusively available on their Kickstarter campaign, and an early bird special is available to those eager to get their hands on this one-of-a-kind tube.
To see the tube in action, and for more information, please visit their campaign at: http://kck.st/1NCa9w5.
To schedule an interview or speak with the creative mind behind Tubular Tube, Sebastian Schleicher, please send an email to hi(at)tubulartube(dot)com
You can find more information about Tubular on Kickstarter. Follow us on Facebook, Twitter @TubularTube and http://www.tubulartube.com.