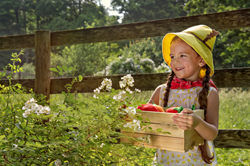 New York, NY (PRWEB) September 14, 2015
Props in a Box™ is a new "all in one" movie making kit that encourages kids and families to create, imagine, make-believe and record movie magic. Combining nostalgic props and modern technology, the entire family will be engaged to create lasting memories with Props in a Box™.
Walk into any pre-school & there is a costume area. There are kids wearing firefighter hats with tutus, every morning in every city...around the world. Kids love to make believe and Props in a Box™ is a return to endless creativity and family play. At Props in a Box™, mom is encouraged to be a dinosaur who has "lost her roar" or dad to be a "knight who is camping in outer space".
Whether a child is a budding actor or actress or just has a wild imagination, parents and kids alike will love watching stories unfold with Props in a Box™. Once the whimsical costumes are on, the possibilities are endless—and stories can get as grand as the imagination will allow. Props in a Box™ encourages creativity, self expression and being anyone you want to be. There are no boundaries and is perfect for girls and boys of any age. Some girls will only want to wear the princess props and others will play the knight everytime... And at Props in a Box we like it that way.
Props in a Box™ works hand-in-hand with a companion Props in a Box Movie Maker App. Stuck for an idea? The app's Story Starters can provide endless movie ideas for each specific box. Not only can families record their productions on the app, but the app allows for the insertion of titles, cast of characters, music—and even comes with custom hand drawn special effects. Each purchase includes one free pack of special effects and holiday specific effects will be added throughout the year.
Each unique set combines two uncommon character costumes, as well as 10+ felt props with a "hand-made" feel and a 42" x 55" illustrated whimsical backdrop. Four sets are currently available for pre-order, with full availability beginning November 2015, priced at $74.99.
The four sets include:

Kit Includes: (1) Backdrop, Dino Head, Dino arms, Dino tail, Pirate hat, Telescope, Bootie and Bag, Hook Hand & Sword
Kit includes: (1) Backdrop, Farmer Pitchfork, Pig, Chicken, Neck Tie, Carrots, Tomato, Doctor Vest, Doctor Bag, Stethoscope, Injection, Medicine Bottle & Knee Knocker.
Fisherman & The Astronaut
Kit Includes: (1) Backdrop, Astronaut helmet, gloves, jet pack, Alien, Fisherman vest, pole, 3 large fish, 3 small fish, bait bucket.
Kit Includes: (1) Backdrop, Princess Skirt, Princess Crown, Magic Wand, Royals Jewels, Chef Apron, Chef Hat, Salt & Pepper Shakers, Cupcakes, Ice Cream, Mixing Bowl and Spoon!
About Props in a Box™
Props in a Box™ believes in letting kids create tales of their imagination, scenes laid out in faraway lands, heroic adventures, hairbreadth escapes, and even when they know it's impossible—they still believe.
Launched in 2015, Props in a Box™ is for the entire family to enjoy, and is the perfect product for both boys and girls of any age. It combines nostalgic props with modern technology with the Props in a Box Movie Maker App, allowing families to not only create lasting memories, but to also save and share them.
For more info, visit http://www.PropsInABox.com