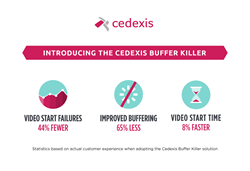 'We've seen a 65% decrease in buffering incidents since deploying Cedexis Openmix.' - Manik Bambha, Chief Digital Officer and CTO at ViewLift
Portland, Oregon & Paris, France (PRWEB) September 14, 2015
Cedexis, the leading provider of Internet measurement and real-time performance-optimization solutions, announces the world's first crowd-sourced video-optimization service, bringing improved Internet video delivery to millions of online viewers for a growing list of popular websites and mobile applications.
Cedexis' video solution has been referred to by several early-adopter customers as the "Buffer Killer," and indeed, that is what it does. On average, Cedexis video customers have experienced a 45% improvement in buffering; 18% improvement in video start-time; and a decrease in video failures of up to 44%. A study by TubeMogul states "4 out of 5 people will leave a video if it pauses to buffer."
Cedexis customers, such as recently added ViewLift – the over-the-top (OTT) technology hub for SnagFilms, Funny for Free, and other popular OTT sites – take a best-of-breed approach to delivering video with high QoS for ever more demanding end users.
"Video performance is key to user retention. We use Cedexis Openmix to ensure our users are directed to the best-performing infrastructure in real time, every time," said Manik Bambha, Chief Digital Officer and CTO at ViewLift. "We've seen a 65% decrease in buffering incidents since deploying Cedexis Openmix. These QoS improvements deliver better quality to the end user, resulting in incredibly low viewer-abandonment rates."
PBS, another great customer, has this to say about their experience using Cedexis for their video deployment: "For PBS Digital, having 100% uptime and great performing video is critical. We implemented Cedexis specifically to improve our Video Quality of Service and it's been a great decision," said Mike Norton, Senior Director of Technical Operations at PBS Digital.
Critical to this solution is the real-time performance monitoring provided by the free Cedexis Radar community of 800+ enterprises and every major Cloud and CDN provider in the world. Collecting billions of Internet performance metrics a day provides a real-time map of where the Internet is humming along nicely, and where interconnections between ISPs and cloud service providers, who host and distribute the world's content, are congested or disrupted.
As video encoding moves from 720p to 1080p and now 4K, the demands on Internet Service Providers, Content Delivery Networks (CDNs) and Data Center/Cloud provider networks can become significant bottlenecks that interrupt the seamless delivery of high-resolution content. Cedexis customers have embraced a strategy of using multiple CDNs and/or cloud providers to avoid single points of failure or congestion. These strategies are commonly referred to as "Multi-CDN" or "Hybrid-CDN" architectures and bring together the best that each partner has to offer through real-time, data-driven, global traffic management between the public providers or private data centers.
"With video representing two thirds of Internet traffic today and growing, it is clear that new strategies are needed to deliver the quality of experience end users have become used to from broadcast TV services. Delivering a world-class video experience over the shared Internet requires a depth of Internet performance visibility and real-time, data-driven traffic management that only Cedexis brings together," said Robert Malnati, VP of Marketing & Business Development at Cedexis.
Cedexis customers can now easily benefit from the unique insight provided by the Cedexis Radar real-user Internet performance monitoring community, by having their video player client software – be it from a website, mobile app, smart TV or connected gaming console – "talk" directly to the Cedexis global platform. Alternatively, enterprises can connect their Content Management Systems (CMS) to Cedexis' platform to make them aware of Internet traffic conditions and outages.
Cedexis' expertise in Internet video delivery is being well recognized by leading industry associations in both the US and EU.

Streaming Media 100 most influential OTT Video solution award
Online Video Trophy NETINEO award
Standards body participant of the Streaming Video Alliance
Learn more about the Cedexis Buffer Killer solution for streaming OTT video.
About Cedexis
Cedexis provides Web-scale, end-user-experience monitoring and real-time traffic routing across multiple clouds and networks. Cedexis Radar crowd sources billions of real user measurements (RUM) a day from a community of over 800 enterprises. Radar data provides real-time visibility into how cloud/network performance is impacting the experience of Web and mobile application users. Cedexis Impact provides the correlation of end-user performance to business KPIs, enabling enterprises to maximize Web performance investments. Openmix uses this insight to route traffic for best performance, or availability, or cost, or any mix of the three. Cedexis is trusted by over 800 global brands including Accor Hotels, Airbus, Cartier, Comcast, LinkedIn, Mozilla, Nissan and Shutterstock. Cedexis is headquartered in Portland, Oregon with offices in Paris, France, San Francisco, CA, Brooklyn, NY and London, UK.
# # #